The partnership will present a free, two-part symposium that brings together leading futurists in education for conversation to address what future schools must look like to prepare students for rapid advances in technology, globalization, and economy.
Link to the Chicago Shakespeare Theater:
Other articles on the Chicago Shakespeare Theater in Shakespeare News:
Chicago Shakespeare Takes In the World
Gala Raises $1.1 Mil, Lauds Sondheim, Daley
Free Comedy of Errors Tours City Parks
Pairs of Shakespeare, Sondheim Top 13–14 Bill
Also in Where's Will @?:
News and announcements from theaters
Links to theaters, festivals, and organizations
The Bard on The Boards: What's Playing Where
The Bard on The Boards: Where's Playing What
Web sites devoted to Shakespeare
More About Shakespeareances.com:
List of Shakespeare Productions
The Shakespeareances.com Top 40
Sponsorship and Advertising opportunities
Sign up for free weekly e-mail updates (safe, secure, spamless, and unshared)
Check out the guy behind this website at www.ericminton.com

Find additional Shakespeareances
on Facebook
Chicago Shakespeare Theater
CST Hosts Future Education Symposiums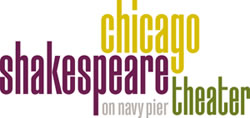 Chicago Shakespeare Theater (CST) hosts the education forum series Beyond These Times: Reimagining School in a continued partnership with Golden Apple and National Louis University (NLU) on Monday, March 18, and Tuesday, May 21, from 6:30–8 p.m. in CST's Courtyard Theater.
The partnership will present a free, two-part symposium that brings together leading futurists in education for conversation to address what future schools must look like to prepare students for rapid advances in technology, globalization, and economy. The series will feature the country's foremost leaders in education policy and practice.
The March 18 symposium will feature Dr. James Paul Gee, noted Arizona State University professor, and Stephanie Pace Marshall, president emerita of the Illinois Math and Science Academy. Gee is a futurist author whose books include Language and Learning in the Digital Age: What Video Games Have to Teach Us about Learning and Literacy and his newly released The Antieducation Era: Creating Smarter Students through Digital Learning. Marshall is the author of The Power to Transform: Leadership That Brings Learning and Schooling to Life, and is a member of the Clinton Global Initiative, a nonpartisan core of the world's most influential leaders committed to strengthening the capacity of people throughout the world to meet the challenges of global interdependence.
The May 21 symposium will feature Tony Wagner, author of Creating Innovators: The Making of Young People Who Will Change the World and The Global Achievement Gap, and Constance Yowell, director of education at the MacArthur Foundation. Wagner is the first Innovation Education Fellow at the Technology & Entrepreneurship Center at Harvard and founded the Change Leadership Group at the Harvard Graduate School of Education. Yowell leads MacArthur Foundation's digital media and learning initiative, which aims to determine how digital media are changing the way young people learn, socialize, and participate in civic life.
"For too long the dialogue in Chicago has been mired in power terms: Who holds the blame, whose solution is superior," said Dominic Belmonte, Golden Apple's president and chief executive officer in a press release. "Lost in the argument to date is how the concept of school itself must change to help our students define the future rather than be victims of it. We need to hear from futurists to help us envision a far better tomorrow than our students currently receive."
Beyond These Times: Reimagining School will be moderated by WBEZ arts and culture reporter Alison Cuddy. Tickets are free and reservations are strongly recommended. All attendees receive a 40 percent discount on guaranteed parking in Navy Pier garages. For more information or to reserve tickets, contact Chicago Shakespeare Theater's box office at 312-595-5600, or visit the theater's website at www.chicagoshakes.com/beyondthesetimes.
Chicago Shakespeare Theater is a leading international theater company, dedicated to producing extraordinary productions, unlocking Shakespeare's work for the next generation, and serving as Chicago's cultural ambassador through the Theater's World's Stage Series. Recipient of the Regional Theatre Tony Award, CST is under the leadership of founder and Artistic Director Barbara Gaines and Executive Director Criss Henderson. Chicago Shakespeare Theater's year-round producing season features as many as 16 plays and 650 performances with work that engages 200,000 audience members in its two intimate theater spaces at its Navy Pier home, in culturally underserved neighborhoods throughout Chicago, in Illinois schools and communities, and across the globe. One in four CST visitors is under the age of 18, an important step in nurturing a lifelong appreciation of the arts and ensuring future audiences for the nation's great cultural institutions.
Annually, CST serves more than 40,000 students and teachers through the theater's extensive education outreach programs, which include teacher workshops, professional development seminars, performance opportunities for local high school students, professional Shakespeare matinees for student audiences, and a five-week tour each spring to urban, suburban, and rural schools throughout the Midwest. CST received the Folger Shakespeare Library's 2012 Shakespeare Steward Award for its innovative teaching of Shakespeare in American classrooms and 20-year partnership with Chicago Public Schools.
Celebrating its 27th anniversary, Golden Apple began with founders Mike and Pat Koldyke and a shared inspiration: to offer outstanding teachers a level of recognition and engagement in the larger work of education reform. Golden Apple's successful record of integrated, innovative programs and resources transform the quality, resiliency, and creativity of classroom teachers throughout Illinois. Visit www.goldenapple.org for more information.
The visionary social reformer Elizabeth Harrison founded what is now NLU 125 years ago and created a new paradigm of adult education. In training women of modest means to transform their home communities through the kindergarten movement, Harrison and her colleagues inaugurated National Louis' mission of preparing talented individuals to lead and succeed regardless of background. Today National Louis graduates thrive in the fields of education, management, human services, counseling, and other people-centered professions where authentic leadership and stewardship of community benefit all. NLU believes that education has the power to democratize nations, to facilitate positive social change in communities, and to promote healthy economies. For more information, visit www.nl.edu.
March 12, 2013
If you have Shakespearean news to share, e-mail editorial@shakespeareances.com