The company will cast two young performers per show, with intern stipends and administrative support funded directly by the Greenspring Grant Program.
Link for the Baltimore Shakespeare Factory:
www.baltimoreshakespearefactory.org
The Baltimore Shakespeare Factory in Shakespeare News:
Company Delivers Sonnet-Gram Valentines
Raw Errors Scheduled for Fringe; OP Merchant Planned for Spring
Four "Greatest Hits" Make Up 2013 Playbill
Camps Put Kids in King's Men Mode
Also in Where's Will @?:
News and announcements from theaters
Links to theaters, festivals, and organizations
The Bard on The Boards: What's Playing Where
The Bard on The Boards: Where's Playing What
Web sites devoted to Shakespeare
More About Shakespeareances.com:
List of Shakespeare Productions
The Shakespeareances.com Top 40
Sponsorship and Advertising opportunities
Sign up for free weekly e-mail updates (safe, secure, spamless, and unshared)
Check out the guy behind this website at www.ericminton.com

Find additional Shakespeareances
on Facebook
Baltimore Shakespeare Factory
Grant Funds Performance Intern Program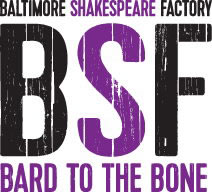 The Baltimore Shakespeare Factory (BSF) in Maryland has received funding from the Greenspring Grant Program to launch a new performance internship program for high school and college actors.
Designed to provide an immersive experience with Shakespearean theater, BSF's performance internships will place local high school and college students onstage alongside professional actors. Beginning with the first production of its 2020 season, the company will cast two young performers per show, with intern stipends and administrative support funded directly by the Greenspring Grant Program.
BSF Education Director Bethany Mayo redesigned an existing internship program as a high-quality learning experience for young performers, who often have limited experience with Shakespeare.
"Through involvement in this program, high school and college students will receive robust training in language analysis, performance skills, and much more," Founding Artistic Director Tom Delise says in a press release. "We are excited to work with the young people in Baltimore." Delise founded the company on the principles of replicating Shakespeare's original staging conditions and fealty to the texts, including staging one Original Pronunciation production each season.
"Greenspring is proud to support the work of the Baltimore Shakespeare Factory through our grant as they inspire new generations of thespians and entertain spectators of all ages in the Baltimore area with the timeless work of the Bard." Lauren Gwinn, chairwoman of the Greenspring Grant Committee 2019, said in the release.
The Greenspring Grant Program was founded in 2012 as part of Greenspring Advisors' philanthropic purpose of making meaningful financial and relational investments in local communities. The grant committee is volunteer and comprises Greenspring associates committed to awarding monies to organizations that create significant mission-driven impact in their fields.
Auditions for BSF's 2020 Performance Internships will be Sunday, September 29 and Monday, September 30 at the company's theater in Hampden. Students in both high school and college are encouraged to submit. For more information, please visit www.baltimoreshakespearefactory.org/internships. For information contact Mayo at 410-662-9455 or bethany@baltimoreshakespearefactory.org.
BSF produces five shows each year at The Great Hall at St. Mary's in the Baltimore historic neighborhood of Hampden. BSF's objective is to recreate, as closely as possible, the staging conditions, spirit, and atmosphere created by Shakespeare's theater company. BSF is a member of the Shakespeare Theatre Association, the Hampden Village Merchants Association, and the Greater Baltimore Cultural Alliance.
Greenspring Advisors, established in 2004, is one of the top five largest registered investment advisory firms in Maryland. It provides investment advisory services to retirement plan fiduciaries, foundations, and endowments, and comprehensive wealth management services to private investors. It is headquartered in Towson, Maryland, with a second location in Paramus, New Jersey.
September 18, 2019
If you have Shakespearean news to share, e-mail editorial@shakespeareances.com