Each week culminates with a full-length performance of Hamlet or A Midsummer Night's Dream, giving students the opportunity to demonstrate their new skills.
Link for the Baltimore Shakespeare Factory:
www.baltimoreshakespearefactory.org
The Baltimore Shakespeare Factory in Shakespeare News:
Company Delivers Sonnet-Gram Valentines
Raw Errors Scheduled for Fringe; OP Merchant Planned for Spring
Four "Greatest Hits" Make Up 2013 Playbill
Also in Where's Will @?:
News and announcements from theaters
Links to theaters, festivals, and organizations
The Bard on The Boards: What's Playing Where
The Bard on The Boards: Where's Playing What
Web sites devoted to Shakespeare
More About Shakespeareances.com:
List of Shakespeare Productions
The Shakespeareances.com Top 40
Sponsorship and Advertising opportunities
Sign up for free weekly e-mail updates (safe, secure, spamless, and unshared)
Check out the guy behind this website at www.ericminton.com

Find additional Shakespeareances
on Facebook
Baltimore Shakespeare Factory
Camps Put Kids in King's Men Mode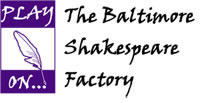 The Baltimore Shakespeare Factory has announced its "Summer with Shakespeare: Performance Workshops" for students entering grades 3–12, who can experience what it might be like to travel back in time to the 1600s and be a part of the fun and excitement of Shakespeare's acting company, The King's Men.
Summer with Shakespeare is a great way to learn acting skills, make friends, build confidence, and develop an appreciation and understanding of Shakespeare's work. Plus, the company claims, it's a "malmsey-butt" of fun.
Baltimore workshops run in one-week, Monday-through-Friday sessions July 29 through August 16 in the Meadow at the John Hopkins University's Evergreen Museum & Library at 4545 N. Charles Street, in Baltimore, Md. For a limited time, enrollment fees are $250 per student. After May 27, rates will increase to $300. Before-care is available beginning at 8 a.m. for $15 each day, or $50 for the week. Registration is limited to 20 students per session.
The company will also conduct a Carroll County Session, July 15–19, at Century High School in Sykesville, Md.
During each one-week session, students will have the opportunity to
Work one-on-one with professional actors and educators;
Learn and practice the same acting techniques Baltimore Shakespeare Factory uses in its productions;
Study Shakespeare's poetic language in ways that make it easy to understand, and learn how to use it to enrich performance; and
Bring some of Shakespeare's most famous characters to life.
Each week culminates with a full-length performance of Hamlet or A Midsummer Night's Dream, giving students the opportunity to demonstrate their new skills.
For more information or to enroll, call 410-921-9455, or e-mail wendy.meetze@theshakespearefactory.com
Wendy Meetze is the Baltimore Shakespeare Factory's new director of education. The Virginia Tech graduate with a bachelor's in theater arts previously served as deputy director of the Howard County Arts Council. A former high school theater teacher, local actor, and director, Meetze has worked with, among other groups, The Heritage Players, Silhouette Stages, The Music Theatre of Williamsburg, and Theatre IV.
May 22, 2013
If you have Shakespearean news to share, e-mail editorial@shakespeareances.com