Much Ado About Nothing
It's a Musical (No Kidding)*
Score and libretto by Hector Berlioz
Shakespeare Opera Theatre, St. Thomas Episcopal Church's Hudson Hall, McLean, Virginia
Friday, July 14, 2022, Second table center
Directed by Lori Lind, Music Director Lisa Bloy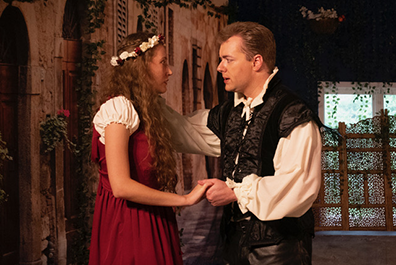 Benedick (Justin Meyer) will do anything for Beatrice (Marieke de Koker) in the Shakespeare Opera Theater's mashup production of William Shakespeare's
Much Ado About Nothing
and Hector Berlioz's
Béatrice and Bénédict
at St. Thomas Episcopal Church in McLean, Virginia. (Photo courtesy of the Shakespeare Opera Theatre)
Northern Virginia's Shakespeare Opera Theater has evolved since its founding in 2015. At first, the company paired productions of a William Shakespeare play and its operatic off-shoot, beginning with Shakespeare's Much Ado About Nothing and Hector Berlioz' Béatrice and Bénédict. Two years later, Founding Artistic Director Lori Lind, a professional opera singer, conductor, and arranger, blended Felix Mendelssohn's popular overture and incidental music for A Midsummer Night's Dream into Shakespeare's play. That was common sense, but Lind started pushing a more ambitious envelope by intertwining full operas and narrative choral pieces with Shakespeare's dramatic renderings of the same story.
This year, the Shakespeare Opera Theatre demonstrates how its mashup concept has come full circle: it's revisiting the two iterations of Much Ado About Nothing the company paired in its debut season but as one piece of work. The result is a singular dramatic experience, which we'll call a musical, with music and lyrics by Berlioz and book by Shakespeare. In this production, the actors are saying Shakespeare's lines and then, out of nowhere, they just start singing Berlioz. The only thing lacking is a dance break. True, the play's masque dance scene remains intact, but it's not your limber-leggy ladies and guys thrilling you till you swoon kind of thing that you get in musicals.
Truly, I'm presenting this as a compliment. This production of Much Ado About Nothing works for three reasons: the source material is perfectly suited in style and substance for the musical structure; Lind has recruited a quality of talent that could have opera geeks swooning; and the production maintains insightful textual fealty that Shakesgeeks can appreciate.
Typically, Shakespeare Opera Theatre splits its show runs between two venues. This year's Much Ado opened in a new home for the company, St. Thomas Episcopal Church in McLean, Virginia, before moving to its annual setting at Grace Episcopal Church in The Plains, Virginia, for its second weekend. For opening night at St. Thomas, the church's 2,500-square-foot fellowship hall, Hudson Hall, is set up like a dinner theater—that's so musical theater, yes? Audiences can munch on focaccia pizza, quiche, biscotti, and an assortment of pastries before and during the show. In front of the low stage at one end of Hudson Hall extends a thrust stage with a café table and two chairs, a wine bottle and two goblets on the table. An Italian street scene photograph serves as a backdrop, and to one side, borrowed from the church's sanctuary next door, are a cross and prayer kneeler for the wedding scene (set decoration and properties by Cecil Turner-Vaselka). The actors wear simple but brightly colored Italian Renaissance costuming, and traditional Italian music plays on the soundtrack—oh, along with Patrick Doyle's version of "Sigh No More, Ladies" from Kenneth Branagh's Much Ado About Nothing film—oh, and Pat Benatar's "Love Is a Battlefield."
Berlioz is one of the first in a long line of French composers whose scores have the tuneful quality of musical theater and touches of whimsy, too—I'm thinking Claude Debussy, Maurice Ravel, Georges Bizet, Jacques Offenbach, and, what the hell, Claude-Michel Schönberg, who wrote the music for Les Misérables. For Béatrice and Bénédict, Berlioz offers up chorales, odes, and arias about wine, love, drinking, victory, liquor, romance, partying, redemption, and partying harder. With Béatrice and Bénédict's premiere in 1862, Berlioz created what might be one of the earliest forms of the modern musical as he also wrote long passages of spoken dialogue. He narrowed his narrative to the titular warring lovers, removing the Hero/Claudio plot and all things Dogberry. Lind essentially substitutes Shakespeare's text for Berlioz's and trims both sources to get the total playing time down to three hours, including intermission.
What distinguishes this production from your typical musical is the style of singing and the quality in which it's sung. Given Lind's background, the dominant DNA in the Shakespeare Opera Theatre is not the first word in the company's name but the second. A consistent quality in the company's productions is how its casts can move you to tears with song, even when they are singing "the noblest liquor in our cellar saves our soul" as they do in this production. One of Lind's favorite staging devices is opening the production's second half with her cast singing an ensemble piece somewhere in the building behind us and advancing through the audience to the stage, singing all the while. Much Ado's second half begins in this manner with the procession for Hero's and Claudio's wedding.
Thanks to an influx of donations, Lind was able to recruit singers for this production from across the United States. This cast includes Shakespeare Opera Theater debuts as Beatrice by Marieke de Koker (South Africa native, sample credentials a half dozen New York City productions); as Hero by Kelly Monteith (a Williamsburg, Virginia, native, sample credential the Chicago Summer Opera and Vienna Summer Music Festival); and as Ursula by Kirsten Nordland (a resident of Ohio, sample credential the Trentino, Italy, Music Festival). Their voices are mesmerizing, both individually and in unison, such as Hero and Ursula in a duet, and Beatrice joining them later for a trio. The evening's Berlioz highlights are Hero's aria expressing her love for Claudio with entrancing vocal acrobatics, and Beatrice's aria after she's been gulled into loving Benedick. Moving from confusion to recognizing her true feelings for Benedick— "He's in my heart; I will requite thee"—de Koker captures the range of emotions Beatrice goes through not just in this moment but in the entire play. Berlioz fully understood Beatrice, and de Koker in this aria nails his interpretation of Shakespeare's intentions.
Though the singing is superlative, the musical accompaniment has been scaled back from the company's past ensembles, which comprised four to five instruments representing strings, woodwinds, and brass. For Much Ado, Music Director Lisa Bloy is pretty much the only accompaniment on piano. She's perfectly capable of playing the score, but I miss the orchestral elements, especially given Berlioz's lyrical arrangements for Béatrice and Bénédict. Berlioz's trumpet lines remain thanks to the talents of Leonato, played by James McKenzie, a former member of the U.S. Army Band "Pershing's Own," who went to acting school upon retiring from the Army.
Finding trained opera singers who also are adept at Shakespearean acting is, however, a particular challenge for the company. Much of the dialogue on this night tends to settle into a plodding pace with overly poetic readings of what is mostly a prose play. Except in her aria, de Koker's Beatrice is constantly scowling, even when she and Benedick are about to be married.
A noteworthy exception is Sonia Bronder's delightfully malevolent Don John. Bronder, who did a brilliant turn as Cassio in the company's production of Othello last year, may have built her Don John character on Beatrice's observation, "How tartly that gentleman looks! I never can see him but I am heart-burned an hour after." Bronder's Don John seems to be suffering perpetual heartburn himself and wishes to share his discomfort with all these excessively happy people. Bronder's eyerolls at the start of a musical interlude and yawning through ensemble pieces perfectly track the character's distaste in happiness for happiness's sake.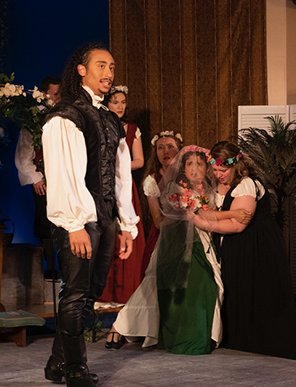 Count Claudio (Jacob Joseph Rivera) denounces Hero (Danielle Bendjy, kneeling in green) at their aborted wedding in the Shakespeare Opera Theatre's production of William Shakespeare's
Much Ado About Nothing
blended with Hector Berlioz's
Béatrice and Bénédict
. Attending Hero are, from left, Beatrice (Marieke de Koker in red), Margaret (Kelly Monteith in white), and Ursula (Kirsten Nordland in black). Bendjy and Monteith switched roles per performances. (Photo courtesy of Shakespeare Opera Theatre)
Other portrayals involve problematic character choices. J.P. Gorski plays Dogberry as a bully rather than a buffoon, and his rambling farewell to Leonato is a schtick to get a bigger tip for his services. Jacob Joseph Rivera creates an immaturely noble Count Claudio. His operatic sobs remind me of Kyle Rittenhouse while his exploration of the word "seems" when he renounces Hero is keenly considered. Then, his anger erupts violently as he slams the wedding trellis down onto the stage. It's certainly dramatic, but Shakespeare's script glosses over why Hero would still marry this guy after such a demonstration of temper.
Joseph Wilson's Don Pedro not only is in earnest when he asks Beatrice to marry him, he seems to maintain a crush on Beatrice for much of the play. If this were the case, his scheme to bring Benedick and Beatrice together would then be a mean trick rather than the truehearted or even lighthearted Herculean effort that this production, as with every other production I've seen, makes it. Nevertheless, it could be an interesting interpretation if carried out with consistency. Such a character arc would make an ironic landing in Benedick's goading Don Pedro at play's end to find himself a wife. This also would establish Don Pedro and his stepbrother Don John as two sides of the same coin.
Justin Meyer is an amiable Benedick—except when he challenges Claudio to a reckoning and squeezes the young count's jaw while delivering the challenge—and provides the bulk of the play's charm, especially in his scenes with Beatrice. One nice touch perfectly suited for a production such as this is Benedick trying to sing his sorry-ass rhymes that he intends to present to Beatrice. Meyer has a good voice (I heard every cast member's individual singing as they passed by me during the wedding procession), so he performed a bad singer most capably.
As for the scene after the aborted wedding in which Beatrice and Benedick profess their love for each other, this production achieves a singular approach—one I've not seen or considered—to one of the Shakespeare canon's most challenging textual interpretations. "Come, bid me do anything for thee," Benedick says to Beatrice. De Koker leans into him as if wanting to kiss but pauses just before their lips meet and says, "Kill Claudio." After a moment's puzzlement, Meyer breaks out into laughter, taking literally how Benedick begins his next line in the text: "Ha, not for the wide world." This Benedick thinks Beatrice is joking, and continues in this vein believing she's engaging in one of their wit wars (e.g., "I am gone, though I am here," she says; "There is no love in you"). He's even chuckling when he asks, "Is Claudio thine enemy?" whereupon she goes off on her "that I were a man" rant, thoroughly convincing Benedick she's not playing games here. This does fit the script's throughline that while Beatrice sees villainy in Claudio's behavior toward Hero, Benedick sees Claudio, who has "the very bent of honor," as a victim of what is likely a Don John scheme (which we, the audience, know to be true).
The production has a couple other nice touches, both Shakespearean and Berliozian. In the pening scene with news of Don Pedro's victory in the war, the Chorus breaks into song, "Le More est en fuite," with a tuneful cheer for "Vive la Sicile." However, Beatrice wants more conversation with the messenger, so de Koker stomps her feet and issues a shut-up gesture with her arms that instantly silences the music, singers, piano and all. The messenger answers her question, and the chorus picks up with song again, but Beatrice has more questions and stomp-stops the music again. Berlioz actually provides this moment in his libretto, but it's played out here with metatheater gusto. In the final scene, when the women are masked and Benedick calls for Beatrice, de Koker is wearing the long-nosed visor Benedick wore for Leonato's masque earlier in the play. It's a poignant choice taking advantage of Shakespeare's bookend masques for the wooing of Hero.
As Shakespeare Opera Theatre's operatic element continues to evolve, so, too, does its Will power continue to mature, becoming something more amazing than a mighty finey musical.
Eric Minton
July 23, 2023
*This review shamelessly references Something Rotten!, book by Karey Kirkpatrick and John O'Farrell, music and lyrics by Wayne Kirkpatrick and Karey Kirkpatrick.
Comment: e-mail editorial@shakespeareances.com.
Start a discussion in the Bardroom