Much Ado About Nothing
A Perfect Rom–Imperfect Com
NextStop Theatre Company, Herndon, Virginia
Sunday, January 22, 2017, second row, center of studio theater
Directed by Abigail Isaac Fine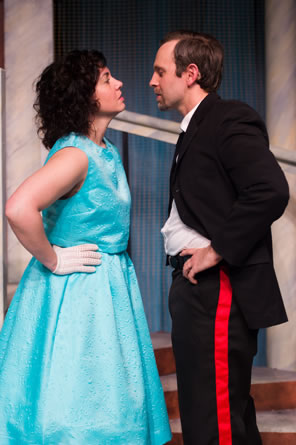 Beatrice (Kari Ginsburg) and Benedick (Jonathan Lee Taylor) face off in NextStop Theatre Company's production of William Shakespeare's
Much Ado About Nothing
. Photo by Traci J. Brooks Studios, NextStop Theatre Company.
Tears? Are my tear ducts really stinging as I watch William Shakespeare's Much Ado About Nothing? It's not from laughing so hard. It's not from cringing too much (though I did a lot of cringing before this moment). These tears are the romantic kind—OK, the chick-flick kind—the result of a perfect consummation of Shakespeare's script, from-the-heart acting, and fluid pacing under the direction of Abigail Isaac Fine.
Fine teams sublimely with Shakespeare in such sterling moments in this NextStop Theatre Company's 1960s South Beach–set production; too often, however, she doesn't trust the Bard, and though she's given the tools for a truly superlative Much Ado About Nothing, the production stumbles as much as it soars.
Much Ado can be set just about anywhere, anytime. Presenting Messina as a beach resort in the mid-'60s captures the play's upper-class, post-war, partying vibe. The preshow and intermission soundtrack alone qualifies the choice, including thematically apt selections such as Tommy James and The Shondells' "Crimson and Clover," Frankie Lymon and The Teenagers' "Why Do Fools Fall In Love," Lesley Gore's "You Don't Own Me," The Shirelles' "Will You Still Love Me Tomorrow," and The Drifters' "Under the Boardwalk" (the last perhaps referring to an off-stage scene—more on that later). Elizabeth McFadden's set is a beach-front veranda, with aqua blue tile meandering through a flagstone patio, Romanesque-arch motifs and columns arrayed in the back, rose vines climbing the railings, wicker chairs set to one side, and a beach chair on the sand.
We first meet Beatrice (Kari Ginsburg) lounging in that beach chair, wearing Frankie-and-Annette-era beachwear (costume design by Stephanie Fisher), reading a book, and delivering cynical comments and observations. She's still in that chair when Benedick (Jonathan Lee Taylor) enters, stepping over her as if she's driftwood.
Under Fine's direction, several key visual clues establish structures on which the actors build their characters. Most of these decisions pay off. In the opening scene, after a quick interaction with Claudio, Hero (Brittany Martz) kisses him on the cheek before running off. Claudio (Benjamin Stoll) is gobsmacked. Stoll maintains a proper yet naive manner in his Claudio throughout the play, deftly gliding through the accusation scene at the wedding, his seeming callousness afterward, and his sincere repentance at the end. Meanwhile, that sneaky kiss is evidence that Martz's Hero is no demure girl (despite her acting like one around the others). At the aborted wedding, falsely accused of rendezvousing with some guy the night before, she reacts to Claudio's lecturing accusation with confused vigor. Responding to the anguished disappointment of her father, Leonato (movingly portrayed by Allen McRae), Martz yells her interjection, "O, my father!" in a "WTF" tone.
Another characterization foundation is laid in the opening scene when Don Pedro (a youngish but commanding James Finley) returns to find Benedick and Claudio conversing in hushed tones. Benedick conspiratorially gestures to Don Pedro and shouts, "Atten-SHUT!" as he and Claudio snap to attention (what kind of military they serve is hard to tell—their uniforms make them look like airline pilots). Benedick's intent, with Don Pedro playing along, is to be "constrained" to tell his commander about Claudio's affections for Hero, but Fine uses this textual reference to establish Benedick's long and close relationship with Don Pedro.
Additionally, Fine inserts what might seem like throw-away stage business that come back as plotline payoffs—literally in the case of a frustrated Benedick tossing his little black book across the beach after attempting to write a sonnet to Beatrice. This book, that Claudio apparently finds, is the final scene's evidence of Benedick's true feelings for Beatrice. Fine follows the recent trend of directors inserting Hero as observer of Claudio and Don Pedro in their obsequies scene; the difference here is that Leonato first enters at the back of the stage and then brings Hero on. Coupled with his insistence that Claudio marry his "niece" as part of his redemption, Leonato is authoring a purifying moment for his daughter.
Other moments and stage business are not so keenly delivered. The overalls-wearing Borachio (Gary DuBreuil) is apparently a handyman on Leonato's estate, and at the play's start he crosses the stage and plays a cheap trick on Mo O'Rourke's uniformed Messenger. This moment re-enters our conscience when O'Rourke, doubling as Conrade, displays an uncomfortable history with Borachio. So, are Conrade and the Messenger the same character (though both are listed individually for O'Rourke) along with Balthasar, as O'Rourke is called when she sings "Sigh No More"? This is not the only problematic execution of character doubling. Lisa Hill-Corley plays both Antonia (this production gives Leonato a sister instead of a brother), and the Sexton. She wears a judge's robe as the Sexton taking the testimony of Borachio and Conrade, and she's still wearing that robe in her next scene with Leonato as she counsels him to "bend not all the harm upon yourself; make those that do offend you suffer, too," meaning Claudio. But if Antonia were the Sexton, she already knows the truth (I don't dismiss the possibility that Hill-Corley simply forgot to remove the Sexton's robe when she returned to the stage as Antonia). That Leonato's brother Antonio in the text becomes a sister, is not an issue for me, especially as Fine keeps in the scene of the two siblings encountering Don Pedro and Claudio, and Hill-Corley's Antonia makes a vicious display as she challenges "boy" Claudio to a fight.
Other interpolations are a mixed bag. On the eve of the wedding, after they've been gulled into believing they are in love with each other, Benedick is sitting by the beach when Beatrice strolls out to him. Without a word she motions him to follow her onto the beach. It's a sweet moment. However, next we see Beatrice, "exceeding ill," entering Hero's dressing room before the wedding and sitting at a mirror checking for hickeys. She and Benedick must have had some fun under the boardwalk well before they profess their love for each other in the script. Accuse me of being old-fashioned, preferring romance before sex rather than vice versa, but this play is old-fashioned, too, even if set in the 1960s.
Another strange choice is Don John (Robert Pike) joining Don Pedro, Claudio, and Leonato as they gull Benedick. Pike captures Don John's unequivocal malevolence in earlier scenes—"I had rather be a canker in a hedge than a rose in [Don Pedro's] grace, and it better fits my blood to be disdained of all than to fashion a carriage to rob love from any," he tells Conrade in "plain-dealing" manner—yet here he is playing bocce with his brother's company, though Don Pedro treats him as more a servant than brother. True, four makes for a better game of bocce than two or three, but other mute characters would seem to be better options, including Bathalsar (Messenger/Conrade), who is on stage at the beginning of the scene. The choice of Don John, though, works for two reasons. One, he's the best bocce player of the four as he and Don Pedro form a winning team: there's underlying meaningfulness in that, a hint of sibling union that might have flourished if not for their mutual disdain for each other. Two, Don John creates an interesting juxtaposition with the scene's other sourpuss, Benedick, off to the side sunbathing. As Benedick comments dismissively on Balthasar's song, Pike's Don John physically reacts to the music with the pained expression of a man who ate bad beef on a trans-Atlantic flight. Pike shows an astute sense of physical comedy and timing in this moment even in playing his sour disposition.
That only worsens the impact of the production's most confounding choice: Pike, doubling as Dogberry, plays the malapropist constable as an over-the-top buffoon and sexual predator. All the Dogberry scenes, but especially his first with Verges (Mimsi Janis, who also plays Ursula) and the night watch—Valerie Adams Rigsbee as a confused Seacole (she's much more sublime in her playing of Margaret), Hill-Corley, and Martz as a super slut hungering for Dogberry's pretty flesh—are so over-the-top in their farcical physicality as to o'erleap the earth's tallest buildings. Stacked on top of each other. Shakespeare's concoction of Dogberry and his company is innately comical and needs little if any additional sauciness, and with Pike's obvious comic skills that we see in his Don John in the bocce scene, I would have loved to see a straight-forward playing of Dogberry instead of enduring these disturbing, cringe-creating moments.
But endure them we must, for the centerpiece scene of the interrupted Claudio-Hero nuptials is as beautifully played as you will ever see. Stoll's believable portrayal of Claudio's tortured accusation of Hero as unchaste, the anguished response of McRae's Leonato, and Martz's Hero heroically enduring it all is only the prelude.
As the others leave, Taylor's Benedick is about to depart when he hears Beatrice sobbing. "Lady Beatrice, have you wept all this while?" he says tenderly. What unfolds is a perfectly choreographed verbal pas de deux by Taylor and Ginsburg in which the psychological undercurrents flowing through the text rise to the surface. Beatrice needs "a friend" to right the wrong to her cousin, Hero. "May a man do it?" Benedick asks. "It is a man's office, but not yours," Beatrice replies. Ginsburg's reading insinuates that Beatrice doesn't want to endanger Benedick, but Taylor's Benedick takes the meaning contrarily (either he's not her friend or a man) and, disappointed, begins walking off. He stops at stage's edge, turns, and then says, "I do love nothing in the world so well as you." Both look at each in stunned silence that he blurted out such a thing before he finally admits, "Is not that strange?" The expressions of their love builds in intensity to the point where he, on his knees, asks, "Come, bid me do anything for thee." In equal earnest, she replies "Kill Claudio." The audience erupts in shocked laughter—whether many or any knew what was coming, it is the right response to the playing here—and Taylor's Benedick gathers in his own shock and answers, reasonably in his mind, "Ha, not for the wide world."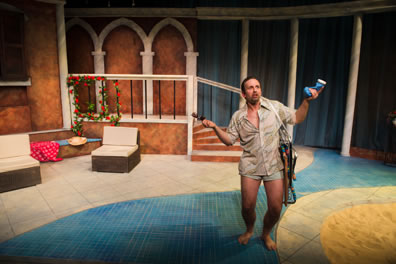 Benedick (Jonathan Lee Taylor) soliloquizes on women as he heads for a bit of sunbathing in the NextStop Theatre Company's production of Shakespeare's
Much Ado About Nothing
. Scenic Designer Elizabeth McFadden's set includes a beach on the right side. Photo by Traci J. Brooks Studios, NextStop Theatre Company.
This reveals a key disconnection between the two. He's already asserted that Claudio "has the very bent of honor" and was likely misled by Don John (flash forward to a later scene when Benedick and Beatrice learn of Don John's plot, and Taylor thrusts out his arms in a "didn't I say that in the first place?" gesture). Beatrice, however, in her great vitriolic speech that follows, doesn't concern herself with the merits of Claudio's accusation but the manner of his accusation, deliberately issuing it in public, even at the wedding altar. "A goodly Count Comfit," Ginsburg's Beatrice rages, pointing to the gender disparity between men and women in that social context. "He is now as valiant as Hercules that only tells a lie and swears it," she says. "I cannot be a man with wishing, therefore I will die a woman with grieving." With such a speech, no setting of this play can be considered anachronistically dubious.
"Enough, I am engaged. I will challenge him," Benedick says. This is actually the tensest moment of the entire scene (and I'm including Claudio's build-up and accusation), as Ginsburg's Beatrice shakes her head in response: the reality of her heart has returned, that though Benedick be a man and a friend, she doesn't want this to be his office. Taylor, though, maintains a formally stoic demeanor as he kisses Beatrice's hand and prepares to leave. You want to see the personification of true love? It is Benedick as stoic and Beatrice as fearful for a man's safety.
Sometimes a director can bring out the Bard at his best; sometimes, the director just needs to get out of the Bard's way. This Much Ado is clear evidence that what matters is not whether Shakespeare works for you but how you work for, and with, Shakespeare.
Eric Minton
January 25, 2017
Comment: e-mail editorial@shakespeareances.com.
Start a discussion in the Bardroom