The Play's the Thing:
An Evening of Hamlet with Ted van Griethuysen
Mounting a One-Man Hamlet
Shakespeare Theatre Company, Lansburgh Theatre, Washington, D.C.
Monday, November 10, 2014, J–6&8 (right stalls)
Directed by Ethan McSweeny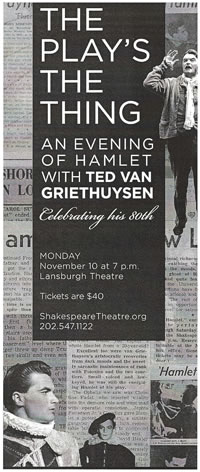 For their 80th birthdays, some people go skydiving, some run marathons. Ted van Griethuysen did both: he performed Hamlet on the Shakespeare Theatre Company's Lansburgh Theatre Stage. And I don't mean just the unitalicized Hamlet, the Prince of Denmark and his 1,476 lines, but the whole of Hamlet, the play's combined First Folio/Quarto texts. In his theatrical stage reading, van Griethuysen played everybody from Hamlet to the Captain and Reynaldo, and the women, too.
This wasn't a mere theatrical stunt (ticket sales supported STC's Free-for-All summer productions). Nor was it entirely a self-indulgent exercise, though van Griethuysen originally might have conceived it as such. Over the course of his 63-year stage career, van Griethuysen has played in eight productions of Hamlet. He was the lead in his very first turn in the play at the University of Texas in 1955, and he played Hamlet as part of the three-actor Hamlet Revisited Company that performed a series of programs based on Eli Siegel's lectures on the play. Van Griethuysen has twice played Laertes, "the usual fate of the actor who didn't get Hamlet," he writes in his program notes. He has played Polonius, he has played Claudius. He doubled as the Ghost and First Player in a 1987 Hartford Stage, Conn., production with Richard Thomas as Hamlet—"one of the few Hamlets I have actually liked," van Griethuysen writes—and in 2007 pulled triple duty as the Ghost, First Player, and the First Gravedigger.
All of these experiences compounded in him a birthday wish "to tell, to show, what I see about Hamlet and the play," he writes. "Everything I have learned, all the work, all the study, all the performances that have filled these 60 and more years have brought me to this place. To this play. To this character. To this lifelong friend." Or, as he said on stage after the show, he wanted to play all the parts in the way he thought they should be done.
Van Griethuysen presented the idea to STC Artistic Director Michael Kahn. "I thought it somewhat more than likely that he would tell me, either politely or frontally, that I was nuts," van Griethuysen writes. But Kahn endorsed it, with good reason beyond artistic merit. Van Griethuysen, an STC–affiliated artist who joined the company in 1987 when it was still at the Folger Theatre, is a beloved veteran actor in the Washington, D.C., theater scene. Though van Griethuysen merely wanted to celebrate his big birthday by doing Hamlet, Kahn saw it as an opportunity for the community to celebrate van Griethuysen. After the actor concluded the play—"Exeunt marching, after which a peal of ordnance are shot off"—and his Hamlet, et al., took his bows, Kahn emerged from the wings and a couple dozen actors and directors scrambled up on the stage. The star was treated to a Ted van Griethuysen Day proclamation from Washington Mayor Vincent Gray and a signed book of mementos.
Sitting alone at a high desk in the center of the stage, reading lights bent over his script, van Griethuysen started with the title and the opening stage direction ("Enter Bernardo and Francisco, two sentinels") and we were off. The show was divided into three one-hour parts with 10-minute intermissions. On a table next to him sat a glass of water and a box of tissues; he rarely sipped from the glass and used a half-dozen tissues to blow or wipe his nose. He spoke stage directions, but only those speech headings needed to clarify new speakers, relying on altered voices and inflections to distinguish characters in dialogues. Amazingly, his voice was as strong at the end when Fortinbras bid the soldiers shoot as it was at the beginning when Bernardo demands, "Who's there?"
While he sought to present Hamlet based on the ideas he has formed over the years, that "over the years" is what we hear more than anything else in his prince. It is a mature Hamlet who ponders deeply philosophical questions from the perspective of a man who has lived long. Siegel's idea that "Hamlet could not revenge his father because he didn't care for his father entirely" was a key influence on van Griethuysen when he performed the Hamlet Revisited series; that idea later compounded with Kahn's observation while directing the 2007 production that "Hamlet has never killed anyone," at least not until the last act. Thus, in van Griethuysen's reading we get a most sensible Prince of Denmark, one who calculates his way through the play.
A key moment comes after he talks with the Ghost and is giving Horatio and the guards his charge of silence. In his delivery, van Griethuysen highlights the dashes in the text: "Here, as before, never, so help you mercy, how strange or odd soe'er I bear myself—as I perchance hereafter shall think meet to put an antic disposition on—" With pause and a change of tone at the first dash, Hamlet has just that moment hit upon the idea of pretending madness as a way to keep Claudius at bay while he works out his revenge plot.
In his performance of the Ghost, van Griethuysen makes us feel his murder. The actor's pace quickens and his voice becomes more forceful as he describes how the poison "swift as quicksilver it courses through the natural gates and alleys of the body, and with a sudden vigor it doth posset and curd." In the line, "A most instant tetter bark'd about, most lazar-like, with vile and loathsome crust," van Griethuysen pounds out each of the hard syllables. The next few lines describe how he was "sent to my account with all my imperfections on my head" that concludes with the threefold "O horrible!" In this reading, the horror is not so much the purgatory fires purging his sins but the yet-vivid memory of the death itself.
Van Griethuysen's Claudius is a coldly efficient, political man. His Horatio is the humble intellect, and Laertes is a crowing rooster even before he goes off to Paris. Both Gertrude and Ophelia sound like ditzes, but I'm not sure that's van Griethuysen's interpretation or the unintentional effect of an 80-year-old man attempting to sound like young women.
In STC's 1992 landmark production of Hamlet with Tom Hulce in the title role, van Griethuysen played Polonius; on this night in 2014, we get a rare audio replay of what helped elevate that particular production to lasting renown. In his program notes he writes that he had beforehand shied away from playing Polonius "because I didn't see how to reconcile the comedy in the part and his deep culpability in the events of the play." He obviously figured it out—"It seems to have come out well," he writes in understated humility—and it does again on this night. His Polonius inspires an almost ever-present laugh track from the audience, and yet we discover in him a doting father and a loyal counselor. It's perhaps easy to see Polonius as a Machiavellian or, at least, a self-important busybody, especially with his assigning Reynaldo to spy on Laertes in Paris. But the Reynaldo scene is played almost entirely for laughs: hearing Polonius forget his place and Reynaldo trying to get him back on track—with van Griethuysen playing both parts—is hilarious. After eavesdropping on Hamlet's "get thee to a nunnery" tirade toward Ophelia, Claudius snapping "Love? His affections do not that way tend" is a rebuke, but Polonius holds to his theory, and Hamlet's later public behavior supports his assertion. As for Polonius inserting himself in Gertrude's closet to spy on Hamlet after the Mousetrap, we must remember that Polonius has no idea what both Claudius and Hamlet know—how the elder Hamlet really died—and that both know that Claudius knows Hamlet knows. Polonius's behavior is predicated on his complete trust in and loyalty to the king, and that comes through in van Griethuysen's performance of the part, through all the laughs and all he misconstrues to his tragic end.
It is said that every actor's Mount Everest is Hamlet. That is referring to the man, not the whole of the play. Van Griethuysen in his birthday gift to himself and the D.C. theater community not only climbed that peak, he mounted the entirety of the Himalayas that is Hamlet.
Eric Minton
November 14, 2014
Comment: e-mail editorial@shakespeareances.com
Start a discussion in the Bardroom