Drunken Shakespeare
Raising the Bar with More and Much More
The Night Shift, Bar Nine, New York, New York
Monday, April 16, 2018, Stool at the corner of the bar
Hosted by Jonathan Minton
We're in a bar in New York City's Hell's Kitchen. A man stands up. He's in a fighting mood. "Abandon the society of this female," he says aggressively, "or, clown, thou perishest." He threatens to use poison, his knife, his crew, and politics. "I will kill thee one hundred and fifty ways," he roars: "Therefore, tremble and depart!" Done with words, he goes into action displaying some of those 150 ways, referencing Star Wars, The Lord of the Rings, Alien, and The Walking Dead. "A little help," he shouts, and the bar's patrons offer some suggestions. "Hanging," somebody shouts, and the man mimes tying a noose around his neck and kicking a chair out from underneath him. "Hit by a train," comes another shout, and the man mimes that. "Drowning," someone says, and he pretends to drown. "Killer bees," says another, and, after a moment's puzzlement, he futilely tries to fend off little imaginary stinging beasts before falling with convulsions. He jumps up and shouts, "Hey nonny, nonny!"
"Hey nonny, nonny!" the other patrons shout back.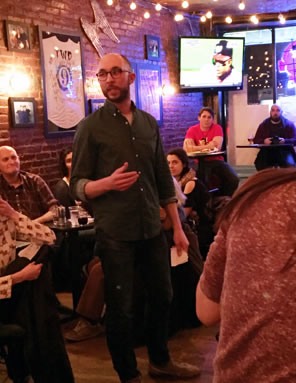 Sir Thomas More (Jonathan Minton) speaks the William Shakespeare–penned speech on immigration in the play
Sir Thomas More
during Drunken Shakespeare at Bar Nine in New York City. The scene is one of 24 played out during an evening of what's billed as Shakespeare karaoke. Photo by Eric Minton.
The man's name is Tom Harney, the character is Touchstone, the scene—at least the first part—is from William Shakespeare's As You Like It, the venue is Bar Nine on Manhattan's 9th Avenue, and the occasion is Drunken Shakespeare, an evening of Shakespeare karaoke. If that in itself sounds like a good way to spend a Monday evening—and there's more such stuff in store here this evening—you can also fuel your Shakespeare fix over the course of three hours with some stellar and insightful performances both comic and serious.
The Night Shift, a theater company in New York City, has been putting on Drunken Shakespeare for more than four years (irregularly scheduled, but always on a Monday). The artistic director of The Night Shift and host of Drunken Shakespeare is my son, Jonathan Minton, but I've never before attended. While Monday nights are convenient for New York–based actors to attend, it's not so easy for dad and stepmom, who live and work a four-hour drive away. As part of the Shakespeare Canon Project: 38 Plays, 38 Theaters, 1 Year, I suggested that Jonathan do Shakespeare's contribution to the multiauthored play Sir Thomas More, a speech about treatment of immigrants, at a Drunken Shakespeare, and he enthusiastically ran with it. Though on my own for this trip, I finally was able to experience a Drunken Shakespeare, a product my son takes much pride in—and this a guy who has played Banquo in a Pennsylvania Shakespeare Festival touring production of Macbeth, Julius Caesar and Midsummer Night's Dream's Theseus and Oberon (the latter on stilts) in a Shakespeare Theatre of New Jersey tour, and many other characters in several Shakespeare productions in the city, and who made his New York directorial debut with Shakespeare's Measure for Measure for Night Shift last year.
Drunken Shakespeare's structure is simple. It is karaoke, sans the mixer and microphone. Anyone can sign up to present a Shakespeare speech, scene, or sonnet. On this night, with an audience of more than 30 bar patrons, the program features 24 scenes with a total of 21 performers (a couple do two scenes, a couple of scenes feature two performers). The 24 scenes are divided into four "acts," and at the end of each act, the name of one of the performers from that act is drawn for a free drink at the bar. Additionally, a raffle features prizes from sponsors, such as bottles of wine, bookstore and t-shirt shop gift certificates, and bar tabs.
The pervading attitude of Drunken Shakespeare is to be a bar party. Alongside Minton as host is the "raffle wench," Lucy Lavely. They greet the crowd with "Hey nonny, nonny!" establishing the call-and-response cheer that not only kicks off each act but signals the end of each scene: The performer says, "Hey nonny, nonny" (most in character and maintaining the tone of their particular speech), and the audience responds in kind. Minton and Lavely engage in much punning (Minton came up with the names of the night's drink specials: "A Middleton-Summer Night's Dream Mule," "The King Jameson Caskmates IPA," and "Barnardine's Black Barrel Whiskey Sour"—remember, he directed Measure for Measure last year). The emcee pair also engages in the most erotic raffle pulls I've ever seen for each act's free drink winner. After the first act, Minton places the slips of paper in his shirt pocket and Lavely uses her fingers to draw one. Subsequently, he tucks the names in his belt and she uses her teeth to select the winner. For the last draw, he clenches the slips in his teeth and, in mid-dance dip, Lavely pulls a slip out with her teeth.
Players can be off-book or have a script (or mobile phone) in hand. They need not be professional actors, though many on this night are, including Ross Neal, who did two tours with the American Shakespeare Center (ASC) in Staunton, Virginia. He lives in the neighborhood, and when he read about Drunken Shakespeare he decided to attend and try out his audition piece, Brutus's soliloquy justifying joining the conspiracy to assassinate Julius Caesar. In this, his first Drunken Shakespeare, he is the third presenter, and his ASC experience comes to the fore as he strolls among the crowd, making eye contact, treating other bar patrons as his confidants. Neal not only makes an impression with his speech, his name is the one Lavely draws out of Minton's pocket for a free drink.
Most of the participants are Drunken Shakespeare regulars, but a woman named Madison and her friends, unaware of that night's floor show, enter during the first act and find a table at the back of the bar beyond the stage. During the second act, as an actor plays Lady Macbeth's letter scene, Madison way back behind him mouths along to the lines. Between acts she finds out what's going on, signs up, and presents a soliloquy by the Jailor's Daughter from The Two Noble Kinsmen. And she nails it with an arresting performance of a young woman caught up in her own romantic fantasies. She also wins that act's teeth-to-teeth-drawn free drink.
Patrick Harvey is the actor who plays that Lady Macbeth speech, infusing the lines with heartfelt romantic devotion for her husband; even the "unsex me here" lines offer all she has for the purposes of her husband gaining glory. Next up, Lavely as Brutus and Shea Madison as Cassius verbally tear into each other with emotionally exhausting ferocity in the tent scene from Julius Caesar. The juxtaposition of these performances, Lady Macbeth with Brutus and Cassius, disproves once and for all the myth that an actor's gender matters in casting any role in Shakespeare. Lavely has more in store when she performs Portia's speech to Bassanio as he is about to choose among the chests in The Merchant of Venice; she does the most intensely earnest rendering I've ever seen of this speech, capturing the character's romantic yearning and trepidation in this moment of the play.
Watching these performances and noting how Neal is using his to hone his audition piece, I get to thinking that auditions themselves can't replicate an actual theater environment the way a venue such as this can. Perhaps casting directors should start attending Drunken Shakespeares—incognito, of course.
Choice of scenes covers a variety of plays: A Midsummer Night's Dream, Richard II, Julius Caesar (three), As You Like It (three), Much Ado About Nothing, Henry V, The Tempest (two), Macbeth (three), Richard III (two), The Merchant of Venice, The Winter's Tale, Romeo and Juliet, The Two Noble Kinsmen, Hamlet, and Sir Thomas More, plus one sonnet (which is sung). One scene in As You Like It yields two memorable moments. First, Carla Montero plays Rosalind disguised as Ganymede chiding Phoebe for being so hateful to her suitor, Silvius. My son, standing to the side, becomes Montero's reference point for Phoebe; sitting at the corner of the bar, I become her Silvius. "'Tis such fools as you that makes the world full of ill-favored children," Montero's Rosalind tells me. Only after this scene's conclusion does Lavely announce that I am the host's father, much to Montero's surprise. Nell Kessler later presents the next speech in this scene, Phoebe commenting on Ganymede with both anger and rising lust. In this speech, all the punctuation—marking when Phoebe shifts in her conflicted feelings—comes in the middle of the lines; noting this, Kessler presents the speech using line-endings for her stops, giving us a hilariously distracted Phoebe.
Other presenters use non-Shakespearean references to enhance their chosen texts. Sam Finn Cutler performs Caliban from The Tempest as Gollum from The Lord of the Rings: "All the infections that the sun sucks up from bogs, fens, flats, on Prosper fall and make him by inch-meal a disease!" For Macbeth's famous speech after learning of his wife's death, Patrick Harvey starts out mimicking Jeff Goldblum: "She should have died hereafter; There would have been a time for such a word." He asks for help; on an audience prompt, he turns into Al Pacino for "Tomorrow, and tomorrow, and tomorrow,"—somebody suggests Christopher Walken—"Creeps in this petty pace from day to day to the last syllable of recorded time,"—Jimmy Fallon—"And all our yesterdays have lighted fools the way to dusty death." The speech continues through impersonations of Rodney Dangerfield (with a bit of extra-textual matter), Jack Nicholson, Jimmy Stewart, Jerry Seinfeld, Dustin Hoffman as Tootsie, Woody Allen, Michael Jackson, Jack Black, and Vin Diesel, ending with Arnold Schwarzenegger "signifying nothing."
The night's dramatic highlight is what I came for: Minton performing Thomas More's speech from Sir Thomas More. England's censor quashed the original play written by Anthony Munday in the early 1590s, but it was revised around 1604 at the hands of several playwrights, identified through stylistic studies to have included Shakespeare, Henry Chettle, Thomas Dekker, and Thomas Heywood. Shakespeare wrote just the one scene (the only extant extensive text written in his hand) of More as undersheriff of London attempting to quell an uprising by London's apprentices and workers against "the strangers"—immigrants—in the city. I've never seen the play, and never even read it before this night. I have since, and at the least it demonstrates how much sharper Shakespeare was as a playwright than his peers, using simpler language but better-developed verse structure and showing greater empathy for all his characters, from More to the members of the mob. Early scenes are clunkers in character development and comic execution, but the play hits a good stride with Shakespeare's scene, and the plot and characters make for a true page-turner through the end (Dekker and Heywood were capable playwrights, too).
The censors continued to hold some sway over the contents: We see More quelling the mob, which is historical, but the play glosses over subsequent violence in what has become known as the Evil May Day riot of 1517. Later in the play, More refuses to subscribe to certain articles from the king (Henry VIII) and ends up losing his head for it, but the subject of those certain articles is never explicitly named. Though the play was written during the reign of Henry's Protestant daughter, the Catholic martyr Thomas More is portrayed respectfully—excessively so, a saintly man and hero among common people and nobility. He's also quite the comedian, even as he walks toward his death: Mercutio has nothing over More when it comes to grave humor.
Shakespeare wrote his scene around the time he was producing Measure for Measure (a play about civic issues) and Othello (a play about an alien). In a well-crafted piece of rhetoric, Shakespeare's More first admonishes the brawling attitude of the mob as both a religious and civic sin, then turns the rioters' logic back on itself: If they operate outside the rules of law, what protection would they have when "other ruffians, as their fancies wrought, with selfsame hand, self reasons, and self right, would shark on you?" He then appeals to their sense of humanity via self-reflection. The imagery Shakespeare uses is strikingly familiar to us today in America. "Imagine that you see the wretched strangers, their babies at their backs, with their poor luggage, plodding to th' ports and coasts for transportation," More says. He allegorically turns the Londoners into strangers facing a world of opinion reflecting on their own actions. "Whither would you go? What country, by the nature of your error, should give you harbor?"
As Minton speaks these lines, a room full of drinking patrons transitions to absolute silence—even the ambient noise inside the bar and out on 9th Avenue ceases. He moves through the room, building More's momentum with a gripping performance that turns polite listening into conscience-disturbing attention. "Would you be pleased to find a nation of such barbarous temper that, breaking out in hideous violence, would not afford you an abode on earth, whet their detested knives against your throats, spurn you like dogs, and like as if that God owed not nor made not you, nor that the elements were not all appropriate to your comforts but chartered unto them? What would you think to be thus used? This is the stranger's case, and this your mountainish inhumanity."
Even these theater-savvy New Yorkers know More is pointing a finger at them and not just at the deporters and wall supporters of this land. "There's no doubt but mercy may be found, if you so seek it," Minton's More says. After glancing around to let this sink in, he continues in More's serious, firm tone as he says, "Hey nonny, nonny."
"Hey NONNY, NONNY!" the audience responds, leading into applause.
The last word of the evening belongs to Hamlet—or to Cutler; it's hard to tell which, given the characterization of Hamlet he plays. When he is introduced again to play his second chosen scene, Cutler doesn't leave his seat at a table by the wall underneath the TV screen telecasting the New York Mets baseball game. "To be, or not to be," he says and delivers this famous soliloquy, beer in hand, in the manner of any number of lubricated guys laying some philosophy on his buddies in a bar. This is Drunken Shakespeare, as immersive as theater gets. Hey nonny, nonny.
Eric Minton
April 20, 2018
Comment: e-mail editorial@shakespeareances.com.
Start a discussion in the Bardroom