The Tempest
A Tempest That Falls Short of the Forecast
Miramax Films (2010), Touchstone Home Entertainment (2011)
Directed by Julie Taymor. With Helen Mirren, Felicity Jones, Ben Whishaw, Reeve Carney, Djimon Hounsou, Russell Brand, Alfred Molina, David Strathairn, Alan Cumming, Chris Cooper, Tom Conti.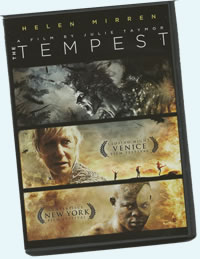 Combining a deep understanding of Shakespeare's text, a theater veteran's experience, thrilling movie-making magic, a singular locale, and top-notch actors and designers, the documentary "Raising The Tempest" about the making of Julie Taymor's cinematic version of The Tempest is a must for any Shakespeare film library.
The movie itself, though, not so much.
If there's one Shakespeare play that seems most suited for cinematic special effects, it's The Tempest, and my shortlist of directors to tackle the play would include Taymor. Her staging of The Lion King is near the top of my all-time theater experiences, her film version of Titus Andronicus is a startlingly vivid presentation of such a rhetorical text, and while Across the Universe was an uneven product, it was ever yet a visual delight. Indeed, various elements of this Tempest are immensely satisfying. This is one of the best- acted Tempests you'll ever see; the costuming deserved its Oscar nomination; and the island has all the exotic qualities you could hope for, from swampy woods to lava shelves, from red-rock gorges to ocean waves crashing into volcanic cliffs.
However, on first viewing, the whole does not translate into an engaging movie. Muted sounds and dim lighting put a damper on the spirit of the story, and the special effects are not so much cheap (though definitely constricted by budget) as they are underwhelming in their intended effects. This is especially so with the great pageant of spirits, which comes across as what you'd see in one of those old cardboard kaleidoscope tubes we used to play with as kids. Ariel is magical in the performance of Ben Whishaw, a wisp of an actor with a dancer's skills and a subtle touch of human emotion within this nonhuman spirit. Through various effects, he remains a part of the elements as he interacts with Prospera, some of which is nice; but more often and especially when he comes and goes "on a twink" he is as magical as a wipeboard drawing.
Taymor could make budget constraints her excuse, but the main culprit is her own self. Genius that she is, she seems to have lost some judgment in knowing when to get out of her own way. Had she not tried to get all zoomy with Ariel but instead had him simply "melt into thin air," since he already was so effectively of the air and of the trees and of the pool and of the sea, we'd not cringe through many of his scenes. Prospera's "poor cell" was a pyramid-like structure with two stairways climbing sheer walls to a single door at the top: an impressive set to look at, and the idea was that Prospera used magic to construct it. However, it was a logistically difficult set for anybody to navigate, especially the foolish conspirators Trinculo, Stephano, and Calaban, who had to laboriously descend into the cell to find the fine linens, and run back up with fiery Rottweilers at their heels. Consequently, a scene that was supposed to be terrifying hilarity turned into clumsy tomfoolery.
Another example has nothing to do with special effects or set but everything to do with director's choice. Djimon Hounsou plays Calaban, and, made up to look like his skin bears volcanic mud, Hounsou tackled his first Shakespearean role by channeling various native African and expressionistic acting techniques into his island mooncalf. I'd listen to Hounsou recite an engineering firm's stock prospectus, and when he plays Calaban's music of the isle speech the heavenly riches he describes are discernable in his face and voice. Then, halfway through the speech's last line, as Hounsou grips us in Calaban's pathos, Taymor cut to a different angle of his face. It was a moment that called for stillness, while the quick-cut had the effect of putting a "THIS IS PATHOS" stamp on what had hitherto been Hounsou's all-consuming performance. Taymor, through her vision, her casting, and her coaching had brought us to this indelible Shakespearean moment, and it turned into something much less because she couldn't resist pushing another visual button. Singularly, this seems like nitpicking, but cumulatively these and other such superfluous intrusions drain the verve from Shakespeare's play and Taymor's overall vision.
Much of the discussion over this production centered on changing the gender of the lead character, from Prospero to Prospera, and casting Helen Mirren in the part. Changing the gender of a Shakespearean character (as with cross-gender casting) is a non-issue with me as long as it doesn't obliterate Shakespeare's thematic intentions or detour his plot; I've seen it work effectively in a number of productions. Taymor, who shares screenwriting credit with Shakespeare, altered the backstory so that Prospera was the wife of the duke of Milan who inherited the duchy upon his death. Within that shift in the text this production explores a mother-daughter relationship rather than a father-daughter relationship, and Prospera's rivalry with Antonio, the brother who usurped her, has a sexist edge to it. Beyond the text, the gender switch inspires discussion on Jacobean playwrights' approaches to practitioners of magic. A woman who performs magic is a witch to be burned; a man who does so will gain power and respect in this life, though perhaps pay for it in the afterlife. Shakespeare's Prospero is a far cry from the Weird Sisters of Macbeth, and the public pride he took in his studies contrasts with Rosalind's quick defense of her supposed sorceress powers in As You Like It. Still, Prospero abjures his art when he heads back to civilization, and we (and, presumably, God) can forgive his use of magic for the sake of his and his daughter's survival on a desert island, so he should have no afterlife concerns.
In Mirren's portrayal, Prospera has found magic to be the power that overcomes her lack of power as a woman. She takes vengeful joy in the shipwreck at the start of the movie, settling into gentleness only at the remonstrance of her daughter, Miranda (Felicity Jones). She maintains a mostly bitter state against everybody else until Arial urges compassion on the distracted courtiers. It is then she decides to put aside magic as a source of power, and when she appears to the courtiers as "sometime Milan," she does so as a woman of inherent power (albeit, she does so knowing that Arial is still at her side—Prospero/Prospera doesn't set him free until Naples has secured his/her future back in Milan).
Mirren could play just about any part and I'd be happy. By any name her Prospera is the anchor for this production, and though her pageant of spirits staged for Miranda and Ferdinand is pretty lame, Mirren follows it with the full "We are such stuff as dreams are made on" speech that, in her pacing, shifts of tone, and reflective expression wrings the deepest meanings of that passage. Here, a great actress playing a great speech, was the movie's most special effect.
Yet, the rest of the cast was almost Mirren's equal. Even comic man-boy Russell Brand making his Shakespearean debut as Trinculo requited himself well; but, then, he had the ever-reliable Alfred Molina as his counterpart, giving a dangerous edge to the ego-bloated butler Stephano. Rock star Carne (who moved on from this project to take the lead of Taymor's Broadway production of Spiderman) eschewed any notion of the king's son as either a studied prince ready to take the crown or a hotshot brat. Instead, he played his part's romantic element to the hilt, making believable through his eyes Shakespeare's depiction of full-on love at first sight. With Jones playing Miranda, not only is lust at first sight an easy first step but, in her charmingly multidimensional portrayal, love is sure to follow quickly.
The performances of the actors playing the courtiers are in line with the castwide level of competency, but they particularly stand out because these parts often get short shrift in productions. In the hands of Alan Cumming as Sebastian, David Strathairn as King Alonso, Tom Conti as Gonzalo, and Chris Cooper as Antonio in his Shakespearean debut, you realize what rich parts Shakespeare wrote. Cumming and Cooper in particular perform a verbal tango (a term Taymor uses in the documentary) as they first tease Gonzalo and then plot to assassinate king and counselor. Cumming is a slightly dim Sebastian, greedy of power, certainly, but comfortable in the power he already has as the king's brother, all of which make him slow to catch on to Antonio's prodding (which Antonio must do without saying in so many words, "kill your brother"). Cooper's Antonio is a slick one, greedy of power and always wanting more. When his sister demands her duchy back at the end, Cooper gives no indication he will willingly relinquish his hold on the reins and looks like he already is plotting his next move as he notes the loss of King Alonso as an ally.
For all these various elements—the acting, Taymor's vision, and the depictions of power represented in individual characters: magical powers, political powers, the power of love, the power of loss, power inspired by greed, and power inspired by a desire for freedom—this movie is worth the viewing, even if it averages a middling grade on most surveys.
Then there's the real gem, an extra on the DVD, "The Raising of The Tempest." That documentary shows how Taymor's Tempest evolved from a minimalist stage production to the location-driven movie; how she captured the raw natural forces of a mostly undeveloped privately owned Hawaiian island; how she turned Whishaw's unavailability to film on location into an asset; how she encouraged Brand to improvise his role as Trinculo and how he, through the course of rehearsal, came back to Shakespeare's script; how the realistic shipwreck was filmed; how the costumes and Calaban's makeup were conceived; and how Taymor ended up with the incredible cast that she did. Along with these and more hows, the documentary reveals the whys, too. It's valuable insight into staging Shakespeare.
It's also a glimpse of the movie we should have seen.
Eric Minton
March 23, 2012
Comment: e-mail editorial@shakespeareances.com
Start a discussion in the Bardroom