The Taming of the Shrew
It's All about Image in Paduawood
Synetic Theater, Lansburgh Theatre, Washington, D.C.
Sunday, April 15, 2012 (Seats H–109&110, center front)
Directed by Paata Tsikurishvili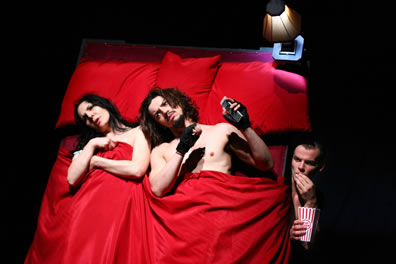 Irina Tsikurishvili as Kate and Ryan Sellers as Petruchio watch porn while in bed as Grumio, played by Alex Mills, watches, too, in Synetic Theater's
The Taming of the Shrew.
The bed, complete with lamp, raised up to a vertical position to give audiences this perspective. Photo by Johnny Shryock, Synetic Theater.
To call this "William Shakespeare's Taming of the Shrew" is to some degree false advertising. It's not exactly Shakespeare. Though it is the latest in the Silent Shakespeare series from the dance and mime company of Synetic Theater, director Paata Tsikurishvili distanced this production from the original text much further than he did with Synetic's Romeo and Juliet last year. It's not really a "taming" either, for though Kate breaks down—from exhaustion more than anything else—the final coupling of Kate and Petruchio comes about through rom-com conventions.
The "shrew" in the title? That's accurate. In this present-day, "Paduawood"–set Taming of the Shrew, Irina Tsikurishvili is one hell-raiser of a Kate, the volatile daughter of famous fashion designer Baptista and sister of the starlet Bianca. Tabloid headlines projected on backdrop panels proclaim her a shrew as they chronicle her many public frays a la Lindsay Lohan or Naomi Campbell. This Kate has real anger issues, easily irritated and ramping up to physical options on the instance. She even wakes up from a nap ready to fight, her fists raised in fisticuff mode.
Paata Tsikurishvili gives us his own intriguing theory as to why Kate is such a shrew. His production opened with the funeral of Baptista's wife, Kate's and Bianca's mother, and the loss clearly affected Irina Tsikurishvili's Kate. As she hovered over the grave, she was literally blinded by the paparrazzi's attention. While Bianca (Irina Kavsadze) soaked up the fame, Kate recoiled at it, and increasingly Baptista shifted his affection to his glitzier daughter, which further enraged the alienated Kate.
From there, the production tracked closely with Shakespeare's story: Hortensio (Vato Tsikurishvili) and Gremio (Philip Fletcher) courted Bianca, and tourist Lucentio (Scott Brown), just arrived in Paduawood accompanied by his camera-wielding buddy Tranio (Dallas Tolentino), encountered the Baptista posse and connected with Bianca, setting up their courtship subplot of disguises. Baptista, wanting to be rid of his tabloid terror, insisted that Kate must be married first and offered a monetary prize to whomever wins her, whereupon Hortensio called on his friend, the frustrated avant-garde painter Petruchio (Ryan Sellers).
The production was amusing up to this point. The brawling was fun, and Baptista's Victoria Secret–like fashion show was spot-on satire. But as Paata Tsikurishvili turned his attention to the Petruchio-Kate courtship and marriage, he used Shakespeare's source text as his sole inspiration for these scenes' emotional and comic substance, and the production jumped up to the realm of comedy genius carried out by the acting talents and athletic dancing of Sellers and Irina Tsikurishvili (who choreographed these cleverly portrayed encounters).
The wooing scene had Petruchio impishly responding to every one of Kate's attacks with humor tinged in machismo nonchalance. The wedding scene had Petruchio, wearing a well-placed lobster, manically bewildering Kate. They traveled to his home on a motorcycle, a Mack Sennett pas de deux, with a frightened Kate clambering all over Petruchio before they crashed. The interrupted meal scene had Petruchio and his eight-person crew first denying Kate any food with their precisely choreographed plate exchanges—kind of a nine-shells-and-a-pea con game—before subjecting her to faux hallucinations, including turning themselves into chickens. Bizarre but hilarious, and it got better. After dinner Kate and Petruchio got in a bed that was then tilted up so that we had a ceiling-perspective view of the couple as they fought over sheets, as Petruchio pretended to snore and fling his arms about as he slept, and as the two of them became mesmerized by a TV porn flick he had clicked on, all with Petruchio's servant Grumio (Alex Mills) underneath the bed assisting Petruchio in his shenanigans.
After Kate finally broke down at the end of the tailor scene (featuring Petruchio's crew as dancing mannequins), Paata Tsikurishvili lost touch with Shakespeare's text. It was as if he didn't know how to handle the plot complexities of acts four and five, so, instead, he fell back to the strategy of giving his audience more clever visuals and dancing talent but framed in a typical Katherine Heigl movie plot rather than Katherina Minola's Shakespearean journey. Kate discovered her father's scheme in getting Petruchio to marry her for a substantial fee and stomped off. Rather than casting another psychological net to recapture her, Petruchio fell into an anguish and started painting, with her as his inspiration. This allowed the Tsikurishvilis to create the visual delight of Petruchio making painting motions with his arms as Kate and the other dancers, wearing brightly colored scalp-to-toe body suits, moved into poses that resembled Leroy Neiman abstract portraits. Kate returned and, after she and Petruchio wrestled with the paint she began realizing Sellers' Petruchio really was a hunk and, upon her discovering she was his new paintings' subject matter, she understood he really did love her. And so they headed back to Paduawood, deliberately making themselves tabloid fodder for the fun of it and returning to the family fold of image-based happiness. There followed your standard dance-off finale by all the cast members, which with this talented cast was a good send-off, at least.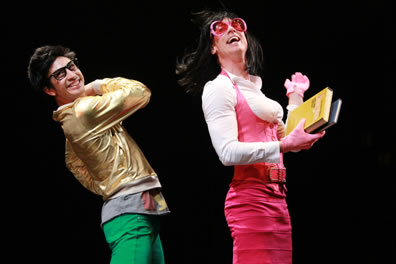 Lucentio (Scott Brown), right, disguises himself as a woman tutor to gain access to Bianca, aided by his friend Tranio (Dallas Tolentino) in Synetic Theater's production of
The Taming of the Shrew
at the Lansburgh Theatre. Photo by Johnny Shryock, Synetic Theater.
Subtlety was largely lacking in this production, which strived in the colorful set and costumes (both designed by Anastasia R. Simes) and the characters to be as flamboyant as possible. In one of Paata Tsikurishvili's more flamboyant interpretations of Shakespeare's text, Lucentio disguised himself as a young woman to gain access to Bianca as her tutor. Brown, negotiating a short skirt and pumps, adroitly played Lucentio's quandary, trying to reveal himself to Bianca while maintaining his disguise for Hortensio (disguised as a dope-toking music teacher) and fending off Baptista's advances. Supposed Cambio as a woman is an interesting conceit, one that might even work when speaking Shakespeare's verse.
With Synetic, the entertainment is in the visuals and physical skills more than in the story, per se. This production's highlight for me was that painting sequence, non-Shakespearean though it was. However, you could pull out that scene and make it a highlight of a ballet divertissement, too. When the visuals developed directly from Shakespeare's text, they benefited from the depth of context and the comic genius seeping through from the original work. Those are the scenes, especially the motorcycle, the dinner table, and the bed scene, that earn Paata Tsikurishvili credit as a visionary Shakespearean director.
Eric Minton
April 17, 2012
Comment: e-mail editorial@shakespeareances.com
Start a discussion in the Bardroom