The dance is accompanied by readings of Shakespeare's works: Sonnet 81, Hamlet's "To be or not to be" soliloquy, the Romeo and Juliet balcony scene, and the song "The Wind and the Rain" from Twelfth Night.
Link to the Union Project Dance Company:
Also in Where's Will @?:
News and announcements from theaters
Links to theaters, festivals, and organizations
The Bard on The Boards: What's Playing Where
The Bard on The Boards: Where's Playing What
Web sites devoted to Shakespeare
More About Shakespeareances.com:
List of Shakespeare Productions
The Shakespeareances.com Top 40
Sponsorship and Advertising opportunities
Sign up for free weekly e-mail updates (safe, secure, spamless, and unshared)
Check out the guy behind this website at www.ericminton.com

Find additional Shakespeareances
on Facebook
Union Project Dance Company
Dancer Creates Show Celebrating W.S.'s 450th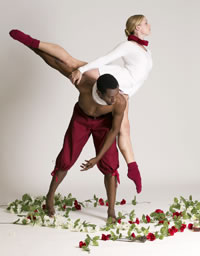 In honor of William Shakespeare's 450th birthday, choreographer Mariana Oliveira, artistic director of the Union Project Dance Company in Los Angeles, has created a piece called W.S. inspired by Shakespeare's works.
The 11-minute program with six dancers will debut at the Pasadena Dance Festival on Feb. 22. It is also slated for performance at the High Voltage Festival in Venice, Calif., on April 4, and at Dance on the Edge Festival in San Diego on April 26.
The modern dance choreography "challenges the dancers both technically and artistically and invites them to immerse themselves into Shakespeare's complex and emotional universe," Oliveira wrote in an email to Shakespeareances.com. The dance is accompanied by readings of Shakespeare's works: Sonnet 81, Hamlet's "To be or not to be" soliloquy, the Romeo and Juliet balcony scene, and the song "The Wind and the Rain" from Twelfth Night.
"At first, it was really challenging to select which of his works I was going to feature," Oliveira said in the email interview. "I already envisioned creating a very technical and emotional male solo, and so Hamlet came to mind, and I absolutely fell in love with the story of his pain. After, I discovered Shakespeare's sonnets, I immediately identified with Sonnet 81. So, I knew that I wanted to start the piece with this sonnet, and through intricate gestures have dancers give form to the words. I came across Alfred Deller's interpretation of 'The Wind and the Rain' and I enjoyed the simple and delicate way that he sings, inspiring me to use this song. After I discovered that the song was part of Twelfth Night, I knew I wanted to create a section with a lot of partnering work choreography, to resemble the couples in the play. Finally, I was very scared of Romeo and Juliet. Since so many other dance companies portrayed their love story through classical ballet, I wanted to give a contemporary reinterpretation using innovative movements and a reading of the balcony speech."
Musical accompaniment used is 16th century songs she researched with the help of her musical director and husband, Michael O. Hurwitz, and "twisted up with electronic music," she said.
Originally from Brazil, Oliveira started her career as a ballet dancer; she is a graduate of the Royal Academy of Dance in London. While living in London, she did a traineeship with the National Dance Company of Wales where she had her first contact with contemporary dance. At the age of 19, she was invited to perform the ballet Giselle with the Cuban Classical Ballet of Miami.
In 2007, she moved to New York and started to study contemporary dance at Broadway Dance Center, Steps on Broadway, and DNA. In 2009, she founded The Union Project, and three months later she met her future husband, composer Hurwitz, who she has since been collaborating with in the creation of new works. After three years, she moved to Miami where she created Les Demoiselles d'Avignon, Dancing with Tom and Malemolência. She now resides in Los Angeles.
Her connection to Shakespeare goes back to her childhood in Brazil, she said. "My grandfather had the entire collection of his books. I remember going through his bookshelves at a very young age and seeing him reading them. At that time, I was too young to understand Shakespeare's works. When I discovered that the celebration of his 450th birthday was going to take place in 2014, I knew right away that I wanted to create something for this occasion. And with that, I had the opportunity to rediscover Shakespeare's life and his work. I became obsessed with it. I was amazed to find such a complex range of characters, and they inspired me to create my own version of them through movements."
February 14, 2014
If you have Shakespearean news to share, e-mail editorial@shakespeareances.com