Shakespeare by the Sea–St. John's
2 + 4 Shakespeares Headline Season
After an innovative springtime fundraising effort, the Shakespeare by the Sea Festival in St. John's, Newfoundland, has just announced the line-up for its 2013 season with a slate of 2 + 4 Shakespeare plays among five shows and additional events.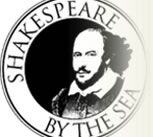 "There truly is something for everyone this year," Jenn Deon, volunteer artistic director and board chairman said in a press release. The festival will feature a 56-member volunteer company this year.
The two full-length Shakespeares are company firsts. Julius Caesar, directed by Nicole Rousseau, will play for the first time ever in Victoria Park on Sundays and Mondays, July 7–Aug. 12. The company has cast this play "gender blind." The company will take on Cymbeline for the first time in the festival's 20-year history. Paul Rowe directs the production that will play at Signal Hill on Fridays and Saturdays, July 19–August 17.
The new show Shake It Up! will perform in another new venue, the field outside the Lion's Club Chalet, home of the St. John's Farmer's Market. Shake It Up! presents four Shakespearean classics (Hamlet, Julius Caesar, Macbeth, and Romeo and Juliet) performed by six actors in under one hour. "It's short, snappy Shakespeare for all," says Deon, who directs the show. Shake it Up! will run Saturdays at 11 a.m. and 1 p.m. from June 22 through Aug. 17.
The Curious Case in the Colony is a Sherlock Holmes story set in St. John's. Written by Chris Hibbs, this site-specific play returns for its third hit season. Directed by Wendi Smallwood, it plays by lamplight in the Newman Wine Vaults, Provincial Historic Site, Saturdays and Sundays, at 8 p.m., July 13 through Aug. 18, and is produced in partnership with the Newfoundland Historic Trust.
Tunes and Tales features fiddler and storyteller Kelly Russell (the province's first designated "Tradition Bearer") with the music of Emile Benoit and Rufus Guinchard and the hilarious Pigeon Inlet stories of Kelly's father, Ted Russell. Tunes and Tales will play at the Crow's Nest Officer's Club each Monday night, beginning at 8 p.m., July 8 through Aug. 26, and is produced in partnership with Pigeon Inlet Productions.
The Festival recently concluded its Free Will crowd-sourcing campaign, generating just over $9,400. The campaign sought to free from admission charge all of its outdoor productions if the goal of $10,000 was raised by April 30. The campaign was successful in freeing two of its three productions, including a successful Ides of March push to free Julius Caesar that raised more than $5,000 in one day.
"While we didn't quite reach our ultimate goal of making the entire outdoor season free, we are proud to be able to offer two of the three shows at no fixed admission," Deon said in the press release. Shake it Up! is the other free show.
The company and volunteers will be almost as busy offstage as on this year. Shakespeare with Scotch is a special fundraising event set for May 24 at the Newman Wine Vaults beginning at 8 p.m. Four exclusive scotches will be sampled, guided by Scotch on the Rock expert Dave Poitras, plus a local craft beer, haggis, bagpipes, and words from The Bard.
Actors and supporters alike will gather for more Brains, Beer, and The Bard on trivia nights at Bitters Pub throughout the summer. On June 8 and 9, company members will be training with two of the finest theater practitioners in North America who are coming to St. John's. Dennis Krausnick, co-founder of Shakespeare & Company in Lenox, Mass., will lead master classes in voice and movement. Jemma Alix Levy, of Illinois' Muse of Fire, will lead workshops in textual analysis and direct address. This professional development opportunity is offered exclusively for company members.
May 21, 2013
If you have Shakespearean news to share, e-mail editorial@shakespeareances.com