Stratford Festival
Shatner to Be Honored with Legacy Award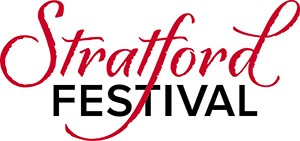 The Stratford Festival in Canada has selected William Shatner to be the 2013 recipient of the Festival's Legacy Award. Shatner's vast career and enormous contribution to the Festival in its founding years will be honored at a gala Monday, Oct. 21, at Toronto's Four Seasons Hotel. "I am proud and happy to be a Canadian and proud and happy to receive this Canadian award," Shatner said in a Festival press release. "I guess I am just proud and happy."
Shatner was a member of the Stratford Festival company for three years, beginning in its second season, 1954, when he played Lucentio in The Taming of the Shrew, the Young Lord in Measure for Measure, and a member of the chorus in the acclaimed production of Oedipus Rex. In 1955, he played Lucius to Lorne Greene's Brutus in Julius Caesar, Gratiano in The Merchant of Venice, and reprised his role in Oedipus Rex. In 1956, he was Fenton in The Merry Wives of Windsor and Gloucester in Henry V. However, it was his turn as an understudy to Christopher Plummer's Henry V that has earned a spot in Stratford Festival lore. When he filled in for the star, Shatner became an overnight sensation, and Plummer is reported to have said, "I knew then that he was going to be a star." Shatner next toured to Broadway, playing Usumcasane in the Festival's production of Tamburlaine the Great.
 "As a screen and television actor, William Shatner has had a legendary career," Stratford Festival Artistic Director Antoni Cimolino said in the release. "He is known around the world for his iconic portrayal of Star Trek's Captain Kirk, and for a host of other leading roles, including T.J. Hooker and Boston Legal's Denny Crane. But many people may not realize that he has also won acclaim as a classical actor. It gives us great pleasure to pay tribute to William Shatner and his legacy at the Stratford Festival. We look forward to creating a tribute worthy of his illustrious career."
Shatner's impressive television career was already under way when he joined the Festival company. His credits include such TV classics as Howdy Doody, Space Command, Alfred Hitchcock Presents, The Twilight Zone, 77 Sunset Strip, The Outer Limits, The Man from U.N.C.L.E., The Defenders, Dr. Kildare, Gunsmoke, Mission Impossible, Marcus Welby, MD, Ironside, Mork and Mindy and, of course, Star Trek, in which, as Captain James T. Kirk, he rocketed to fame, starring in more than 100 episodes and seven feature films, one of which he also directed. Shatner played the title role in T.J. Hooker before hosting television's first reality-based series, Rescue 911.
Shatner won a Golden Globe and an Emmy for his portrayal of Denny Crane in the hit TV series Boston Legal and a second Emmy for The Practice. He has toured extensively—and continues to do so—with his one-man show, Shatner's World, which is now set to air Oct. 27 on TMN and Movie Central at 8:30 p.m.
Shatner was last in Stratford in 2009 for a screening of the documentary Gonzo Ballet at the Avon Theatre as part of DocFest. The film profiled the Milwaukee Ballet's performance of Common People, a dance presentation set to the music of Shatner's critically acclaimed album Has Been. His newest musical project is a space-inspired album called Seeking Major Tom, which features a number of heavy metal covers as well as songs by U2, Frank Sinatra, Queen, and Pink Floyd. His new album, Ponder the Mystery, will be released in October.
Shatner is also the author of nearly 30 best-sellers, both fiction and non-fiction, and of a comic book series. A longtime dedicated breeder of American quarter horses, Shatner founded the Hollywood Charity Horse Show, which is held annually in support of Los Angeles-based children's charities.
Tables for the Stratford Festival's Legacy Award presentation to William Shatner are available at two levels: Silver ($25,000) and Bronze ($15,000). To reserve, contact the Festival's Director of Advancement, Rachel Smith-Spencer, at 519.271.4040, ext. 2402.
Last year, the award was presented to Dame Maggie Smith, who was a Festival company member for four seasons between 1976 and 1980. The first recipient, in 2011, was Christopher Plummer, a member of the company for 12 seasons, beginning in 1956.
September 18, 2013
If you have Shakespearean news to share, e-mail editorial@shakespeareances.com