SSC's production history included more than 78 plays, 30 from the Shakespeare canon.
Link to Shakespeare Santa Cruz:
Other stories on Shakespeare Santa Cruz in Shakespeare News:
New Play Joins Santa Cruz 2012 Lineup
Also in Where's Will @?:
News and announcements from theaters
Links to theaters, festivals, and organizations
The Bard on The Boards: What's Playing Where
The Bard on The Boards: Where's Playing What
Web sites devoted to Shakespeare
More About Shakespeareances.com:
List of Shakespeare Productions
The Shakespeareances.com Top 40
Sponsorship and Advertising opportunities
Sign up for free weekly e-mail updates (safe, secure, spamless, and unshared)
Check out the guy behind this website at www.ericminton.com

Find additional Shakespeareances
on Facebook
Shakespeare Santa Cruz
Company Closes; Effort to Revive Under Way
Shakespeare Santa Cruz's 32-year run came to an end with the 2013 season as the venerable professional theater officially shuttered on Dec. 8.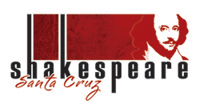 An effort under the label of Shakespeare Play On is attempting to raise $885,000 in order to resurrect the theater in some form. Thus far, the campaign has raised more than $670,000, and has recruited such luminaries for its advisory board as actor Sir Patrick Stewart; James Bundy, dean of the Yale School of Drama and artistic director of Yale Repertory Theatre; director and playwright Emily Mann, artistic director of McCarter Theatre; Christa Stiner, chief financial officer at Montalvo Arts Center; automotive and motorcycle designer Darrin Caddes; human genome expert David Haussler, director of both the California Institute for Quantitative Biosciences and the Center for Biomolecular Science and Engineering at the University of California, Santa Cruz; and longtime Santa Cruz arts supporter Rowland Rebele.
A professional repertory company, working in residence on the campus of The University of California–Santa Cruz, Shakespeare Santa Cruz produced a summer theater festival, two co-productions with the UCSC Theater Arts Department, an annual family holiday musical, and Shakespeare to Go, a community engagement program that took Shakespeare's plays into area schools and community centers. UCSC Theater Arts and the Arts Division have committed to continue Shakespeare to Go in 2014.
SSC's production history included more than 78 plays, 30 from the Shakespeare canon, complementary work by classical playwrights including Molière, Beaumarchais, and Ibsen, as well as newer works by Samuel Beckett, Itamar Moses, and Edward Albee, among many others.
The summer festival plays were held indoors on the UCSC Theater Arts Mainstage, and outdoors among the redwoods in the Sinsheimer-Stanley Festival Glen, widely regarded as one of the most beautiful and unique outdoor settings in which to experience live theater.
If Shakespeare Play On succeeds in getting a 2014 season mounted, Marco Barricelli, Shakespeare Santa Cruz's Artistic Director from 2008 to 2013, and Mike Ryan, longtime Shakespeare Santa Cruz actor, will share the mantle of Shakespeare Play On's artistic leadership as co-artistic directors.
For more information on Shakespeare Play On and to donate, visit www.shakespeareplayon.net.
January 21, 2014
If you have Shakespearean news to share, e-mail editorial@shakespeareances.com