Shakespeare Republic is the creation of Sally McLean, an Australian actress, director, writer, and former BBC staffer, and is designed to bring Shakespeare to new audiences through placing his work in a 21st century context.
Link to the Shakespeare Republic:
Also in Where's Will @?:
News and announcements from theaters
Links to theaters, festivals, and organizations
The Bard on The Boards: What's Playing Where
The Bard on The Boards: Where's Playing What
Web sites devoted to Shakespeare
More About Shakespeareances.com:
List of Shakespeare Productions
The Shakespeareances.com Top 40
Sponsorship and Advertising opportunities
Sign up for free weekly e-mail updates (safe, secure, spamless, and unshared)
Check out the guy behind this website at www.ericminton.com

Find additional Shakespeareances
on Facebook
Shakespeare Republic
Australian Web Series Readies Second Season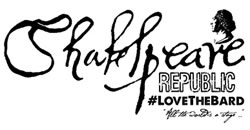 The first season of Shakespeare Republic's Webcasts—seven episodes featuring actors delivering William Shakespeare speeches and sonnets in various 21st century settings, posted in August and September 2015—earned the Australian company 25 official film festival selections and won eight awards.
Season Two, "with more cast, more characters, and more Shakespeare," according to a statement from the company, will kick off with a Gala Launch Event in Melbourne on Dec. 4.
Shakespeare Republic is the creation of Sally McLean, an Australian actress, director, writer, and former BBC staffer, and is designed to bring Shakespeare to new audiences through placing his work in a 21st century context. Season One saw  Ben Steel (Home and Away, Winners & Losers) playing Juliet as a gay man speaking the balcony soliloquy while Skyping Romeo; Rowena Hutson as an overwhelmed female reeling from the pressures of work, life, and family, delivering Hamlet's "To be or not to be" soliloquy in a bubble bath; Billy Smedley (Miss Fisher's Murder Mysteries) as a media advisor to a prime minister delivering Hamlet's instructions to the players; Alan Fletcher (Neighbours) as a politician metaphorically planning the assassination of a political rival reciting Macbeth's "If it were done" soliloquy in a restroom; Michala Banas (Upper Middle Bogan, Nowhere Boys) as an entitled Gen Y Phoebe in As You Like It at a party drunkenly texting Gannymede; and McLean (Utopia) performing Sonnet 18 on the edge of a seaside cliff with the object of her affection in her hands. Each episode continues its dramatic context after the speech's conclusion—after the credits, even.
Many of the actors also serve in production capacities for the series along with award-winning cinematographer Shaun Herbertson and a crew with the experience of a total of more than 170 professional film credits to their names. All locations were donated for filming, and all cast and crew members volunteered their time.
This was an experiment to see if the company's take on Shakespeare could find an audience and show that Shakespeare is just as relevant to us now as he was to audiences 400-plus years ago. Shakespeare Republic's decision to do a second season indicates the experiment's success; awards at the Peak City, Indiepossible, and Los Angeles Cinefest international festivals in the United States and StoneFair and 12 Month film festivals in Romania attest to the project's artistic success (awards include best Web series, best Web short for Sonnet 18, best director for McLean, best cinematography for Herbertson, and best actor for Steel's Juliet).
Expanding from six actors to 13 with an emphasis on a female presence in Shakespeare, seven of the 13 Season Two episodes feature women. The new lineup of Shakespeare pieces includes monologues from As You Like It, Twelfth Night, Much Ado About Nothing, Sir Thomas More, Antony and Cleopatra, King Lear, Othello, and All's Well That Ends Well, among others. The expanded cast for the second season includes Nadine Garner (The Doctor Blake Mysteries), Jack Charles (Cleverman), Dean Haglund (X-Files), Christopher Kirby (Iron Sky, Predestination), Wahibe Moussa (Kick), Tariro Mavondo (MTC), and Shane Savage (Chris & Josh, The Web Series), as well as McLean, Fletcher, Smedley, and Banas.
Season Two completed filming in September and will be launching Dec. 4 at a Gala Event at the Courthouse Hotel, North Melbourne, a celebration that will include a live performance of Shakespeare's works by the Republic ensemble in the style of promenade theater. Tickets for this event can be bought via TryBooking.com. The second season will begin airing online on Dec. 7, 2016.
Meanwhile, Season One continues its film festival tour, currently screening in England at the Fisheye Film Festival before making its Irish premier at the Dublin Web Fest in November; the entirely self-funded Season One of the series continues its successful festival run, putting this Australian take on Shakespeare fully on the world stage.
Directed by McLean and produced by McLean, Shane Savage, Billy Smedley, and Perri Cummings, Shakespeare Republic: #LoveTheBard (Season Two) has been made possible through the support of the Courthouse Hotel as primary sponsor, as well as Creative Partnerships Australia's MATCH Program, Auspicious Arts Projects Inc., and Location Sponsors Lord Somers Camp, St. Catherine's School, and Toorak College.
To see Shakespeare Republic's first season, go to http://shakespearerepublic.com/episodes/.
November 17, 2016
If you have Shakespearean news to share, e-mail editorial@shakespeareances.com