"It is such a unique opportunity afforded to midcareer stage actors, and it's an honor not only to be recognized for one's work, but also to have the chance to walk in the shoes of Alfred Lunt and Lynn Fontanne."
Link to the Oregon Shakespeare Festival:
Other articles on OSF in News & Announcements:
OSF's LBJ Drama All the Way Shares New Kennedy Award for Historical Drama
Premieres, Musicals, LBJ Supplement Shakespeare's Early- and Late-Career Works
OSF Wins Grant for Playwright Residency
American Revolutions Cycle Tabs Five Playwrights with New Commissions
Also in Where's Will @?:
News and announcements from theaters
Links to theaters, festivals, and organizations
The Bard on The Boards: What's Playing Where
The Bard on The Boards: Where's Playing What
Web sites devoted to Shakespeare
More About Shakespeareances.com:
List of Shakespeare Productions
The Shakespeareances.com Top 40
Sponsorship and Advertising opportunities
Sign up for free weekly e-mail updates (safe, secure, spamless, and unshared)
Check out the guy behind this website at www.ericminton.com

Find additional Shakespeareances
on Facebook
Oregon Shakespeare Festival
Nordli Earns Lunt-Fontanne Fellowship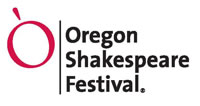 Oregon Shakespeare Festival actor Robin Goodrin Nordli is one of 10 stage actors in the United States selected as a 2013 Lunt-Fontanne Fellow. The actors will gather from July 21–28, at Ten Chimneys, the National Historic Landmark estate of Broadway legends Alfred Lunt and Lynn Fontanne, in Genesee Depot, Wis. (just outside of Milwaukee) to work with Academy Award nominee, six-time Golden Globe, and five-time Emmy Award winner Alan Alda serving as the master teacher. Alda will focus on spontaneity on stage.
The other 2013 Lunt-Fontanne Fellows, along with their nominating Partner Theatres, are David Alan Anderson of Indiana Repertory Theatre in Indianapolis; David Breitbarth of Asolo Repertory Theatre in Sarasota, Fla.; Kandis Chappell of The Old Globe in San Diego, Calif.; George Dvorsky of Paper Mill Playhouse in Millburn, N.J.; Sharon Lawrence of The Pasadena Playhouse in Pasadena, Calif.; Kathleen McCall of Denver Center Theatre Company in Colorado; Dee Nelson of Huntington Theatre Company in Boston, Mass.; Mark Nelson of Cleveland Play House in Ohio; Andrew Philpot of PCPA (Pacific Conservatory of the Performing Arts) Theaterfest) in Santa Maria, Calif.
Nordli, in her 20th season at OSF, was nominated by OSF Artistic Director Bill Rauch. "It is such a unique opportunity afforded to midcareer stage actors, and it's an honor not only to be recognized for one's work, but also to have the chance to walk in the shoes of Alfred Lunt and Lynn Fontanne—two giants of the American Theatre—at their estate in Wisconsin for a week," Nordli said in a press release. "Add to that the master class with Alan Alda and you have an experience that is an incredible gift. I can't wait. It means so much."
In nominating Nordli for the Fellowship Program, Rauch wrote: "I directed Robin Goodrin Nordli as Hedda Gabler, twice: once in Ibsen's tragedy, and once in Jeff Whitty's brilliantly irreverent comedy The Further Adventures of Hedda Gabler. Both performances were pitch-perfect, which tells you all you need to know about this revered and respected artist. Robin has played to great acclaim almost every major female character that Shakespeare wrote, and her Rosalind was as memorable as her Lady Macbeth. Her original show Bard Babes showcases many of those performances. Her comic gifts are ferociously brilliant, including a jaw-dropping physical spontaneity, while she is able to dig with equal depth into a tragic character's heart. Although she has often been a leading lady, she supports her fellow company members in the smallest of ensemble roles with grace and commitment. It is wildly appropriate that Robin Goodrin Nordli's accomplishments are being celebrated with her inclusion as a Lunt-Fontanne Fellow; she is truly a master American actor."
In 2009, the inaugural year of the program, OSF actor Dan Donohue was selected as a Lunt-Fontanne Fellow, and Jack Willis was also a participant, nominated by American Conservatory Theatre. The actors immersed themselves in Shakespeare with the late actress Lynn Redgrave. Proof of the relationship-building that results from Ten Chimneys' program, Willis is now in his third season with OSF. In 2011, OSF actor Vilma Silva was selected to participate with master teacher Olympia Dukakis for an immersion class in Anton Chekhov.
March 14, 2013
If you have Shakespearean news to share, e-mail editorial@shakespeareances.com