Oregon Shakespeare Festival
OSF Marks Season's End, Fond Farewells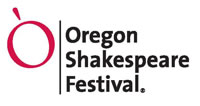 The Oregon Shakespeare Festival in Ashland wrapped up its 77th season earlier this month with the final performance of Romeo and Juliet, a celebration and dedication of the Thomas Theatre (formerly New Theatre), and farewells to some long-time company members, including Executive Director Paul Nicholson, who is retiring in December after 33 years.
OSF announced on Aug. 10 that Cynthia Rider, managing director at Missouri's Kansas City Repertory Theatre, will succeed Nicholson.
Commenting on the season, Artistic Director Bill Rauch said in a press release; "I am so proud of how vibrant and varied all 11 productions were in our 'season of abundance,' dedicated to my wonderful partner Paul Nicholson. The caliber of our artists' and artisans' work and the passion of our audience made 2012 a memorable season. We also had an unprecedented number of leaders from other theaters visit us this year, attesting to the keen national interest in what is happening theatrically in Ashland, Oregon."
The 2012 season, which included 11 productions of 790 performances and was sponsored by U.S. Bank, achieved 87 percent of capacity. Total attendance was 392,430 and ticket revenue was $18,309,792. Attendance rebounded after last season's beam crisis, but was slightly below budget expectations.
Malia Wasson, president of U.S. Bank in Oregon, applauded OSF. "During tough economic times, we count on arts organizations such as the Oregon Shakespeare Festival to lift our collective spirits," she said in the release. "With a broad array of productions and consistently high-quality performances, the 77th season was enjoyed tremendously by audience members from near and far. We at U.S. Bank are proud of our longstanding partnership and look forward to a fantastic 78th season in 2013."
"The year has proven to be enormously gratifying," Executive Director Paul Nicholson said in the release. "We've had huge audience responses to our two American Revolutions plays, Party People and All the Way. And, of course, audiences laughed until they were silly at the antics of the Marx Brothers in Animal Crackers. I'm just so proud to have been able to produce this slate of plays in my final season as executive director."
The American Revolutions commissions were hugely popular with audiences. Party People, opening in early July and staged in the New Theatre, was written by UNIVERSES and directed by Liesl Tommy. A dazzling creation of music, dance, history and theatricality, the show was a draw for returning patrons and several groups of new audiences. The play examines the turmoil of the 1960s and 1970s through the collective memory of veterans of the Black Panthers and the Young Lords, and many members of those parties attended the show. The other American Revolutions commission, Robert Schenkkan's world premiere production about Lyndon Johnson's first year in the presidency, All the Way, was directed by Bill Rauch and played frequently to sold-out houses. Director Mary Zimmerman's luminous world premiere adaptation of The White Snake left audiences saddened when it closed in early July. The production will be touring to Berkeley Repertory Theatre and running from Nov. 9 to Dec. 23.
The renaming of the New Theatre was ensured in March through a generous donation of $4.5 million from a group of donors comprised of The Goatie Foundation, Roberta and David Elliott, and Peter and Helen Bing. The gift answered a challenge issued 10 years ago when Jo Lynn Allen of the Paul G. Allen Family Foundation, the lead donor for the construction of OSF's New Theatre, passed on the opportunity to name the theatre, issuing the requirement for other donors to make a significant contribution to secure the naming rights. The combined gift from the sdonors met the threshold for naming rights. At the request of the group of donors, the New Theatre officially became the Thomas Theatre, in honor of longtime OSF Development Director Peter D. Thomas, who died in March 2010.
Each season, OSF holds its annual Daedalus Project to raise funds for HIV/AIDS organizations. The total raised at this season's Daedalus Project was a new record of $110,347 including $58,597 from the afternoon play reading and evening variety show, and $21,260 from the underwear parade. In his e-mail to the company about the amount, Nicholson wrote: "Having participated in or watched every Daedalus event since its inception 25 years ago, I can honestly say that this was among the very best. It really is an extraordinary event—it's hard to imagine that we could raise over $100,000 in one day in a small town of 20,000 in Southern Oregon. Yet we do, and we change lives because of it. We have much to be proud of, and many people to appreciate. More than 250 company and community members (and two canines) were actively involved in the day's activities."
In addition to the departure of Paul Nicholson, OSF bids farewell to long-time company members Todd Barton, Deborah M. Dryden, and Tom Knapp. Barton, resident composer and music director, arrived at OSF in 1969 to play recorder in the Green Show. Forty seasons later, he had composed scores for more than 250 plays and the entire Shakespeare canon. Dryden, resident costume designer, started designing costumes at OSF in 1979 and was named resident costume designer in 1996. In her 33 years at OSF, she has designed costumes for 85 plays. Knapp served as production manager for 32 seasons, overseeing the creation of more than 350 productions.
The 2013 season will open on Friday night, Feb, 22, in the Angus Bowmer Theatre with Shakespeare's the Taming of the Shrew. On Saturday OSF will open the American classic musical, My Fair Lady, and August Wilson's Two Trains Running. Opening Sunday in the New Theatre is William Shakespeare's towering tragedy, King Lear. In March, the world premiere of The Unfortunates, developed in OSF's Black Swan Lab, comes to the stage, and in July an American Revolutions commission, The Liquid Plain, has its premiere. Next season, in the Thomas Theatre, OSF introduces a new schedule where all three plays will run in repertory to the end of the season in order to give audiences more play-going options. Also playing in the Angus Bowmer Theatre will be the American classic, A Streetcar Named Desire, and a world premiere production, The Tenth Muse.
On the outdoor Elizabethan Stage, opening June 14–16, OSF takes audiences "into the woods" with Shakespeare's Cymbeline and A Midsummer Night's Dream, and the U.S. premiere of The Heart of Robin Hood.
The 2013 season is also sponsored by U.S. Bank. Previews begin on Feb. 15 and the season runs through Nov. 3. Presale for membership begins Nov. 9; general ticket sales begin Nov. 26. Visit www.osfashland.org to learn about membership presale. For box office information, call 800-219-8161 or 541-482-4331.
November 12, 2012
If you have Shakespearean news to share, e-mail editorial@shakespeareances.com