In a unique collaboration of professional artists and members of the community, Odyssey featured a cast of more than 200 performers.
Link to The Old Globe:
The Old Globe in News & Announcements:
Auditions Set for Student Theater Awards
Old Globe Selects Managing Director, Confirms Dual Leadership Structure
Old Globe Gala Schedules Broadway Star
Also in Where's Will @?:
News and announcements from theaters
Links to theaters, festivals, and organizations
The Bard on The Boards: What's Playing Where
The Bard on The Boards: Where's Playing What
Web sites devoted to Shakespeare
More About Shakespeareances.com:
List of Shakespeare Productions
The Shakespeareances.com Top 40
Sponsorship and Advertising opportunities
Sign up for free weekly e-mail updates (safe, secure, spamless, and unshared)
Check out the guy behind this website at www.ericminton.com

Find additional Shakespeareances
on Facebook
The Old Globe
Musical Odyssey Premieres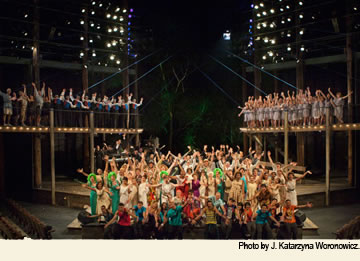 In celebration of its 75th anniversary, The Old Globe in San Diego commissioned a musical version of Homer's epic tale The Odyssey that made its world premiere on Sept. 30 with two more presentations over the weekend at the Globe's Lowell Davies Festival Theatre. In a unique collaboration of professional artists and members of the community, Odyssey featured a cast of more than 200 performers.
Conceived and directed by Lear deBessonet, with music, lyrics, and book by Todd Almond, Odyssey reimagines Homer's epic poem as seen through the lens of contemporary San Diego. It chronicles the trials and adventures that the ancient Greek hero Odysseus faces on his long journey home from the war at Troy. Along the way, he encounters a one-eyed giant, confronts the horrifying monsters Scylla and Charybdis, visits the Underworld and resists the intoxicating Circe. Odysseus finally returns home disguised as a beggar and must win back his wife, Penelope, and take revenge on the suitors who have been circling her in his absence.
"Todd Almond and I were excited about featuring people and groups who can only be found in San Diego as characters from the classic Odyssey story," said deBessonet in an Old Globe statement released prior to the production's opening. "When we heard the St. Stephen's Church Choir sing, we thought, 'Well, who better to be the voice of heaven?' Culture Shock San Diego will play the Phaecians; the San Diego Youth Symphony and Conservatory will score a dream ballet of Odysseus' homecoming; Valhalla High School Percussion will play the Palace Guard; and the children from San Diego Junior Theatre will play the Voices of the Underworld."
Odyssey was part of the Globe's Southeastern San Diego Residency Project supported by a grant from the James Irvine Foundation's Artistic Innovation Fund. For more information on the Old Globe, go to www.theoldglobe.org.
Octobr 2, 2011
If you have Shakespearean news to share, e-mail editorial@shakespeareances.com