Live music, composed by Irish artist Shaun Davey, will help convey the mystery and magic of this story of redemption, reconciliation, and forgiveness.
Link to the Theatre for a New Audience:
Theatre for a New Audience in Shakespeare News:
Books Series Features Shapiro's Year of Lear
Gala Honors Abraham With Scripps Award

Online Auction Supplements Fund-Raising Gala
Siff Moves from Shrew to Beatrice In TFNA's 2013 Season Opener
Also in Where's Will @?:
News and announcements from theaters
Links to theaters, festivals, and organizations
The Bard on The Boards: What's Playing Where
The Bard on The Boards: Where's Playing What
Web sites devoted to Shakespeare
More About Shakespeareances.com:
List of Shakespeare Productions
The Shakespeareances.com Top 40
Sponsorship and Advertising opportunities
Sign up for free weekly e-mail updates (safe, secure, spamless, and unshared)
Check out the guy behind this website at www.ericminton.com

Find additional Shakespeareances
on Facebook
Theatre for a New Audience
Nunn's Musical Pericles Highlights Season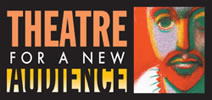 Trevor Nunn, one of the top Shakespearean directors of his generation who also happens to have staged two of the biggest international hit musicals, is combining both talents with a production of William Shakespeare's Pericles, part of the 2015–2016 Theatre for a New Audience season announced this month.
Nunn, a four-time Tony and Olivier Award–winner and former artistic director of the Royal Shakespeare Company and the Royal National Theatre, will be staging Pericles for the first time in his career. Pericles, one of Shakespeare's latest works and most maligned, combines a fantastic adventure—a hero wandering, Odysseus-like, the world of the Aegean—with a story of a miracle. Live music, composed by Irish artist Shaun Davey, will help convey the mystery and magic of this story of redemption, reconciliation, and forgiveness.
This isn't the first time Nunn has presented Shakespeare in a musical format. He produced a musical version of The Comedy of Errors for the RSC in 1976. He also directed the original London productions of Cats and Les Misérables.
Pericles, running from February 14–March 27, 2016, is the second offering in TFANA's season, which opens in September with New York City Players' production of Isolde, written and directed by Richard Maxwell. Isolde is a new American play about memory, identity, the ephemeral, and infidelity inspired by the legend of Tristan and Isolde. The marriage of Patrick and Isolde appears to be happy. Patrick is the owner of a successful construction company and Isolde is a star actress. But Isolde finds herself increasingly unable to remember her lines. When she decides to build her dream house, her husband is eager to help. But Massimo, an award-winning architect whom Isolde hires, jeopardizes the project.
The season concludes with Arin Arbus, TFANA associate artistic director, directing in rotating repertory two provocative contemporary classics about marriage: Henrik Ibsen's A Doll's House, in an adaptation by Thornton Wilder, not seen in New York since its Broadway premiere in 1937, and August Strindberg's The Father in a new version in English by David Greig, commissioned by TFANA. Strindberg wrote The Father as a direct rebuttal to Ibsen's A Doll's House, fulminating against Ibsen's tale of a woman bravely escaping a stifling bourgeois marriage. This is the first time the two plays will be performed in repertory, which begins in May.
Season packages are now on sale at http://www.tfana.org/season-2016/season-tickets/ticket-plans or call 212-229-2819 ext. 10.
August 2, 2015
If you have Shakespearean news to share, e-mail editorial@shakespeareances.com