"Reading to my son is one of my favorite activities. But parents are people, too. If we can create a book that's fun to read over and over for both adults and children, we're going to be our own most satisfied customers."
Drivel and Drool
Also in Where's Will @?:
News and announcements from theaters
Links to theaters, festivals, and organizations
The Bard on The Boards: What's Playing Where
The Bard on The Boards: Where's Playing What
Web sites devoted to Shakespeare
More About Shakespeareances.com:
List of Shakespeare Productions
The Shakespeareances.com Top 40
Sponsorship and Advertising opportunities
Sign up for free weekly e-mail updates (safe, secure, spamless, and unshared)
Check out the guy behind this website at www.ericminton.com

Find additional Shakespeareances
on Facebook
Children's Bedtime Book
A Sweet Dream for Sweet Dreams
How early should you start your children on Shakespeare? How about when they are infants and toddlers?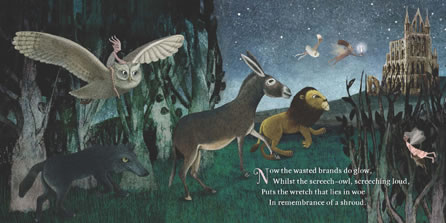 Houston writer and mother Erin Nelsen Parekh reads to her son at night, but with a couple dozen board books on the shelf she could read with her eyes closed, Parekh wondered whether the amazing mnemonic power of board books might not be put toward more adult-friendly sources.
"One night the nightlight I was using to read bedtime stories died," she's quoted in a press release. "I didn't want to go on a disruptive battery hunt right before bed, so I wondered if there was anything I could recite to my baby. I remembered most of his usual bedtime books, but without the pictures they lost a lot of power. I thought of all the beautiful rhymes and images I had come across in classical poetry, and the way epics like the Odyssey and the Iliad used to be recited to audiences of all ages. But, of course, I couldn't remember any of that. And I started wishing I'd spent some of my time repeating lines over and over on some words that meant a little more to grownups."
Parekh set out to determine if there was classic literature that could also make a fun and easy-to-follow narrative for young children. She landed on William Shakespeare, in particular his play A Midsummer Night's Dream. "It's not just about name-brand recognition of the original author," Parekh said. "I think it's important that kids hear stories, where they can learn empathy with the characters and cause and effect through the action. And it's easier to understand unfamiliar words if we can see what they're describing."
The result is Behowl the Moon, a 209-word excerpt from Puck's final two speeches in a 22-page board book illustrated by award-winning artist Mehrdokht Amini. The rhyming, rhythmic epilogue of the comedy describes the antics of Fairyland as night breaks. Animals howl and roar and screech, fairies run from sunlight, and all is chaos—until order is restored and serenity overtakes the cast, just as a rowdy child cuddles up and nods off to sleep.
Amini knit images from the play into a story with plenty of adventure and suspense, and Shakespeare's timeless words become a bedtime story parents will enjoy reading over and over. Amini's past work has been named to the ALA notable list, a Parents' Choice Approved Book, one of Bank Street College of Education Best Children's Books of the Year starred for Outstanding Merit, and among the CCBC Choices 2013 from the Cooperative Children's Book Center at the School of Education at the University of Wisconsin. She has also garnered the Best Children's Africana Book Award 2016 and a PubWest Book Design Gold prize in 2013.
The rest of the project team is made up of young Texas mothers, all with kids aged 13 months to 3 years, who are handling design, promotion, script, video editing, and marketing, as well as liaison with printers and fulfillment. "As an educator and the mother of a 1-year-old, I'm really excited about this book," Katerina Manoff, education consultant and founder of HoustonNewMoms.com, said in a press release. "By focusing on just one passage from a popular Shakespeare play and turning it into a book for babies and toddlers, this project creates a fun, accessible first introduction to Shakespeare for the smallest readers."
Publication is expected in April 2017. The book is currently the object of a Kickstarter campaign, which will run throughout the month of September.
"Reading to my son is one of my favorite activities," said Parekh, whose second child is expected slightly after the book goes to press. "But parents are people, too. If we can create a book that's fun to read over and over for both adults and children, we're going to be our own most satisfied customers."
For more information or to contribute, visit the kickstarter campaign at https://www.kickstarter.com/projects/172320179/behowl-the-moon-an-ageless-story-from-shakespeares.
September 19, 2016
If you have Shakespearean news to share, e-mail editorial@shakespeareances.com