"It's not very Shakespearean, but all we can say is 'wow!'"
Link to the Marin Shakespeare Company:
Marin Shakespeare Company in Shakespeare News:
Spanish Tragedy, Country Comedy, All's Well
King John, Liar Fill Out 2012 Schedule
Also in Where's Will @?:
News and announcements from theaters
Links to theaters, festivals, and organizations
The Bard on The Boards: What's Playing Where
The Bard on The Boards: Where's Playing What
Web sites devoted to Shakespeare
More About Shakespeareances.com:
List of Shakespeare Productions
The Shakespeareances.com Top 40
Sponsorship and Advertising opportunities
Sign up for free weekly e-mail updates (safe, secure, spamless, and unshared)
Check out the guy behind this website at www.ericminton.com

Find additional Shakespeareances
on Facebook
Marin Shakespeare Company
Company Gets $1 Mil Silver Anniversary Gift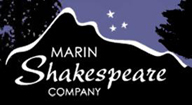 Marin Shakespeare Company in San Rafael, Calif., has received an anonymous $1 million gift donation for the company's 25th anniversary season. News of the donation was announced May 31 at a gala event celebrating Marin Shakespeare Company's 25th Silver Season.
"There are going to be a million new ways to enjoy Shakespeare in Marin," said Robert Currier, Marin Shakespeare Company's artistic director, in a news release.
"This gift will create new jobs, touch more lives, and ensure the future of Shakespeare in Marin. It's not very Shakespearean, but all we can say is 'wow!'" said Lesley Currier, Marin Shakespeare Company's managing director, in the release. "This is not only a ringing endorsement of our work over the past 25 years, but also a loving gift to the community and an investment in the future that will benefit untold numbers of people. We're looking forward to the next 25 years."
Under the Curriers' artistic and managerial direction, Marin Shakespeare's summer festival has become a Marin tradition with a season of three outdoor professional productions presented in repertory at Dominican University's Forest Meadows Amphitheatre in San Rafael.
"We are thrilled to receive this transformational gift, which will help us secure the future of Marin Shakespeare Company," Lesley Currier said. "We are looking forward to creating bigger, bolder productions; adding new amenities for audience comfort, enjoyment, and engagement; and expanding our education and outreach programs. We are investing in a mike system this summer that should vastly improve acoustics at Forest Meadows, and audiences will see other improvements as well."
The company is starting a new Shakespeare program in the coming school year at the County Community School and will be inviting more public elementary schools to participate in "Play Power," which sends teaching artists into classrooms to share Creative Dramatics with students in grades K through 5.
Marin Shakespeare Company's 2014 season features As You Like It, Romeo and Juliet, and An Ideal Husband. Outdoor productions are presented in repertory, July 5 to Sept. 28.
June 3, 2014
If you have Shakespearean news to share, e-mail editorial@shakespeareances.com