Idaho Shakespeare Festival
"Clowning Around!" Tops Semester of Classes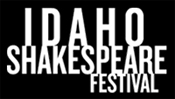 Like young kids need a class for clowning around. But this one, part of the Idaho Shakespeare Festival (ISF) Spring School of Theater, will be taught by a real clown.
Professional actor Dakotah Brown, who received his Bachelor of Fine Arts in acting from the University of Santa Barbara (home to "an incredible clowning program," says company flyer) and eight-year member of the Idaho Shakespeare Festival's company will be leading the class "Clowning Around!" for Grades 7–12.
"Goofiness with a goal!" the company flyer says, as students learn and build upon the physical and improvisational techniques that create comedy gold. "Perfect for anyone with a sense of humor and a big imagination!"
"Clowning Around!" will run on Wednesdays, 4:15–5:45 p.m. The cost is $165. It is one of eight classes being offered in the spring semester, which runs January 8–March 15, each capping off with final performances. Classes are taught by theater professionals.
Story Theater (ages 3–5) kicks off Saturday mornings with the reading of a new story, which the students then bring to life through their voices, bodies, imagination, and play. Saturdays 10–11 a.m., $125.
Page to Stage (grades 1–3) uses new children's literature as the basis for students to create their own performance from a story they choose while learning basic performance techniques through fun, engaging games, and activities. The students will perform their play, complete with costumes and props, making the class's favorite story jump from the page to the stage. Tuesdays 4:15–5:45 p.m., $165.
Performance Play (grades 4–6) allows all participants to take on a character and bring a play to life. Using plays for young actors, students will learn the basics of acting while they experience the joy of producing a play. Thursdays 4:15–5:45 p.m., $165.
Broadway Basics (grades 1–3) teaches young students the basics of Broadway. Students will learn songs and choreography, set up in the style of a musical revue, from selected Broadway musicals and contemporary favorites. Thursdays 4:15–5:45 p.m., $165.
Broadway Bound! (grades 4–6) will expose students to the foundational aspects of musical theater while learning songs and choreography from both selected Broadway musicals and modern hits and telling a story through music and movement. Tuesdays 4:15–5:45 p.m., $165.
Performance Intensive (grades 7–12), continues to be the pinnacle of success for students who have worked hard on their skills as actors and can be a springboard to the ISF Apprentice Program. Students will learn and foster the building blocks of acting as they collaborate on a fun and exciting performance that will display all they have learned in the 10 weeks. This class develops creativity, confidence, and character. Mondays and Tuesday, 6–8:30 p.m., $320.
Adult Acting Forum (ages 18 and above) is a new class that will help students expand and improve their acting skills, tailored to the interests of the group. This forum can explore anything from improvisation to Shakespearean text to contemporary scene work. This class is for anyone who has ever been interested in performance or just interested in improving their public speaking and communication skills. Tuesdays. 7–8:30 p.m., $175.
For more information and to register, visit http://idahoshakespeare.org/drama-school/. Contact education manager, Veronica Von Tobel, with any questions or to inquire about scholarship opportunities at veronica@idahoshakespeare.org or (208)429-9908 ext. 206.
December 15, 2017
If you have Shakespearean news to share, e-mail editorial@shakespeareances.com