Hudson Valley Shakespeare Festival
Shakespeare, New and Old, Shares
31st Festival With New Austen, Local History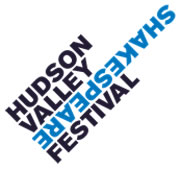 Two new plays, including one from a playwright whose work is one of the hottest properties in New York City and Washington, D.C., joins a 2017 repertory that also features two works by William Shakespeare and a piece about Shakespeare at the Hudson Valley Shakespeare Festival (HVSF) in Cold Spring, New York. The Festival's season runs from June 8 through Sept. 4.
"With Shakespeare as our inspiration as well as our resident playwright, HVSF will explore the intersection of the past and the present: telling timeless stories that speak powerfully to our world today," Artistic Director Davis McCallum said in a press release announcing the Festival's 2017 season. "We're presenting world premieres of a pair of brand-new plays, alongside a pair of Shakespearean masterpieces, as well as the first major revival of Richard Nelson's 1996 play about an unforgettable chapter of Hudson Valley history. At the heart of each of these plays is a story about love—of comrades and friends, of family, of country, of romantic enchantments and unspeakable longing. We hope that our 2017 season will make actors and audience fall in love all over again with the magic of outdoor theater."
McCallum will direct Lauren Gunderson's The Book of Will, one of two world premieres by female playwrights under the HVSF Theater Tent this season. Gunderson's gleefully irreverent play, originally commissioned by the Denver Theater Company at the Denver Center for the Performing Arts, tells the mostly true story of how Shakespeare's comrades rescued and preserved his work by publishing the First Folio in 1623, seven years after his death. More than a play about the Folio, it is a story about camaraderie among friends and courage in the face of loss. McCallum will direct a production of the play at the Denver Center in January before bringing a rolling world premiere to HVSF for the summer.
The second world premiere of the season is a new adaptation of Jane Austen's Pride and Prejudice by Kate Hamill, who previously adapted Austen's Sense and Sensibility. The latter, produced by Bedlam Theater Company, has become a hit in New York and Washington. A director will be announced at a later date.
Shakespeare's Twelfth Night, directed by Moritz von Stuelpnagel (recent TONY nominee for Broadway's Hand to God), will receive a full-season run. Von Stuelpnagel, who also is slated to direct a Broadway revival of Present Laughter starring Kevin Kline in the Spring of 2017, previously directed All Is Calm for HVSF in 2014. The other Shakespeare title, Love's Labour's Lost, features HVSF's Conservatory Company, an intensive training program for early-career actors. In a partnership with New York's The Acting Company, that company's artistic director, Ian Belknap, will direct Love's Labour's Lost at HVSF and then take the production on a tour to New York City schools with The Acting Company, expanding HVSF's reach to an even broader audience and providing additional professional development experience for its actors.
HVSF will launch HVStories, a new series focusing on the history, people, and culture of the Hudson Valley, with Richard Nelson's The General from America, directed by Penny Metropulos. Nelson's retelling of Benedict Arnold's infamous defection and flight from West Point will be right at home under the HVSF Theater Tent at Boscobel, which overlooks the military academy's campus. Its cast of characters includes this year's hottest founding father, Alexander Hamilton, as well as President George Washington. HVSF will partner with the Putnam History Museum and other regional organizations during the run of The General from America to offer related experiential programming.
The Book Of Will, Pride and Prejudice, and The General from America were each read in past seasons of the Festival's HVSF2 series, which will continue in 2017. Details will be announced at a later date. Casting for all shows will be announced in the New Year, and season tickets will go on sale in March.
Celebrating its 31st season in 2017, HVSF is a professional, nonprofit theater company based in Garrison, New York, one hour north of Manhattan. The Festival has established a reputation for lucid, engaging, and highly inventive productions featuring exceptional industry talent and a backdrop of stunning vistas overlooking the Hudson River at historic Boscobel House and Gardens.
Each year, its productions attract a total audience of more than 35,000 from the Hudson Valley, New York City, New Jersey, Connecticut, and 40 other states, and regularly achieve more than 80 percent capacity under its open-air Theater Tent. HVSF also takes the magic of Shakespeare and live theater throughout the tri-state region by touring limited runs of fan favorites through its HVSF On The Road series and by bringing student-oriented productions and education programs to nearly 50,000 elementary, middle, and high school students and educators each year.
December 21, 2016
If you have Shakespearean news to share, e-mail editorial@shakespeareances.com