Double Heart envisions the early courtship of Beatrice and Benedick, providing a fascinating back story to Shakespeare's timeless tale.
Link to the Great Lakes Theater:
Great Lakes Theater in News & Announcements:
Camp Theater! Offers Summer Classes
Pre-Show Discussions on Romeo & Juliet To Delve into Modern Parenting, Science
Auditions Scheduled for Actors/Teachers
Two Shakespeares, Hippy Moliere Highlight 2012–13 Season
Also in Where's Will @?:
News and announcements from theaters
Links to theaters, festivals, and organizations
The Bard on The Boards: What's Playing Where
The Bard on The Boards: Where's Playing What
Web sites devoted to Shakespeare
More About Shakespeareances.com:
List of Shakespeare Productions
The Shakespeareances.com Top 40
Sponsorship and Advertising opportunities
Sign up for free weekly e-mail updates (safe, secure, spamless, and unshared)
Check out the guy behind this website at www.ericminton.com

Find additional Shakespeareances
on Facebook
Great Lakes Theater
Beatrice and Benedick Tour with Prequel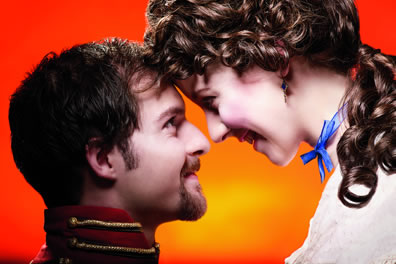 James Rankin (Benedick) and Emily Pucell (Beatrice) star in the 2013 Great Lakes Theater touring production of
Double Heart
. The world premiere play will visit venues throughout northeast Ohio as a precursor to the company's mainstage production of
Much Ado About Nothing
. Photo by TRG Reality, Great Lakes Theater.
A world-premier production of a play that looks into the past of the warring wits at the center of Shakespeare's Much Ado About Nothing will kick off Cleveland's Great Lakes Theater 2013 series of Surround outreach program in February. The free show will visit 21 neighborhood venues throughout Northeast Ohio.
Written in poetic verse by David Hansen, supervisor of Great Lakes Theater's School Residency Program, the hour-long Double Heart: The Courtship of Beatrice and Benedick features a company of four actors directed by Lisa Ortenzi. The show is designed to support Great Lakes Theater's production of Much Ado About Nothing, which opens in March at the Hanna Theatre, PlayhouseSquare.
The tour will run from Feb. 12 to March 7. All performances of the touring production are free and open to the public, with the exception of performances at area schools, which are private. The touring play is appropriate for all audiences.
"For nearly 25 years, Great Lakes Theater has brought free, professional theater out into the community in the form of our educational outreach tours," Daniel Hahn, Great Lakes Theater's director of education, said in a press release. "It is quite a legacy, and we are so grateful for everyone in the community who supports this important work. When you see the audience's appreciation, whether it's in an auditorium of high school students or at an assisted living facility, or even at a local community theater or library, there's nothing quite like taking professional theatre to the people, and having the opportunity to have an open discussion with our audiences and actors after each and every performance. It's one of the most important things we do to fulfill our mission."
Double Heart envisions the early courtship of Beatrice and Benedick, providing a fascinating back story to Shakespeare's timeless tale. The four-actor touring company features Cleveland actors David Hansen, Annie Hickey, Emily Pucell, and James Rankin. The production team is Terry Martin (scenic design), Esther Haberlen (costume design), and Richard Ingraham (sound design). The 60-minute program includes an introduction and post-performance discussion.
Great Lakes Theater's Surround program offers multiple educational programs designed to connect the issues in the plays that Cleveland's classic company produces to the issues in people's own lives. All Surround events are free and open to the public.
For the tour's schedule, visit www.greatlakestheater.org/education/outreach-tour.
January 14, 2013
If you have Shakespearean news to share, e-mail editorial@shakespeareances.com