"Our Community Tours bring professional theater to the full spectrum of humanity in our community by traveling to nontraditional venues such as prisons, homeless shelters, and mental health facilities."
Link to Delaware Shakespeare:
Also in Where's Will @?:
News and announcements from theaters
Links to theaters, festivals, and organizations
The Bard on The Boards: What's Playing Where
The Bard on The Boards: Where's Playing What
Web sites devoted to Shakespeare
More About Shakespeareances.com:
List of Shakespeare Productions
The Shakespeareances.com Top 40
Sponsorship and Advertising opportunities
Sign up for free weekly e-mail updates (safe, secure, spamless, and unshared)
Check out the guy behind this website at www.ericminton.com

Find additional Shakespeareances
on Facebook
Delaware Shakespeare
NEA Grant Supports Romeo & Juliet Tour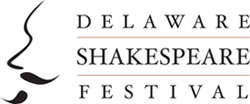 The National Endowment for the Arts has awarded Delaware Shakespeare a $10,000 Challenge America grant that will support the company's 2019 Community Tour production of Romeo and Juliet. Among the $27 million in grants the NEA has announced for fiscal year 2019, these Challenge America grants support projects that extend the reach of the arts to underserved populations—those whose opportunities to experience the arts are limited by geography, ethnicity, economics, or disability.
"The arts enhance our communities and our lives, and we look forward to seeing these projects take place throughout the country, giving Americans opportunities to learn, to create, to heal, and to celebrate," Mary Anne Carter, acting chairman of the National Endowment for the Arts, said in a statement announcing the grants.
"Delaware Shakespeare is honored to be the recipient of this NEA Challenge America grant," David Stradley, producing artistic director of Delaware Shakespeare, said in a company press release. "Our Community Tours bring professional theater to the full spectrum of humanity in our community by traveling to nontraditional venues such as prisons, homeless shelters, and mental health facilities. They have been transformative for the organization and for audiences. The national recognition and support for this program from the NEA is a welcome affirmation for the vital necessity of this work."
During the first three years of the Community Tour, audiences have reacted strongly to the love stories included in the plots of Pericles, As You Like It, and The Merchant of Venice. Del Shakes is anticipating a great audience response to Shakespeare's most famous lovers in Romeo and Juliet. The 2019 Tour venues will include some youth-specific audiences with aims of magnifying connections to the younger generation focused on in the play. Audiences such as teens at The Ferris School will share in reflections on Shakespeare's conflict of youth violence between rival factions.
Romeo and Juliet will be directed by guest artist Lindsay Smiling, Hothouse Company member at Philadelphia's Wilma Theater and a veteran of Pennsylvania Shakespeare Festival, Illinois Shakespeare Festival, and Shakespeare Theatre of New Jersey. Set pieces will be created by Phillip Scarpone, Sculpture Area Head at Rowan University.
In 2018, Delaware Shakespeare expanded its Community Tour by a week, increasing the total number of free venues from 13 to 18, plus two ticketed performances. The same plan is in place for 2019, though the venues are still being set.
Past venues have included the Ministry of Caring/Sacred Heart Village (Wilmington), Christina Cultural Arts Center (Wilmington), First State Community Action Agency (Georgetown), CAMP Rehoboth (Rehoboth Beach), the Route 9 Library & Innovation Center (New Castle), the Delaware Center for Homeless Veterans (Wilmington), Groves Adult High School–Red Clay (Stanton), the Latin American Community Center (Wilmington), Dover Public Library (Dover), Polytech Adult High School (Woodside), and the Delaware Psychiatric Center (Wilmington). Additional visits were specially arranged with Howard R. Young Correctional Institution (Wilmington), Baylor Women's Correctional Institution (New Castle) and the Sussex Correctional Institution (Georgetown) and were not open to the public.
Following are videos covering past Community Tours:
For more information on this National Endowment for the Arts grant announcement, visit arts.gov/news.
Now in its 17th season, Delaware Shakespeare creates year-round professional theater and educational programs for residents of and visitors to the state of Delaware.
March 1, 2019
If you have Shakespearean news to share, e-mail editorial@shakespeareances.com