"Live performances of Shakespeare are among our culture's richest experiences. It's such a privilege to help share the conversation about great art with the entire world.
Link to the Chesapeake Shakespeare Company:
Chesapeake Shakespeare Company in Shakespeare News:
Acting Courses Aimed At Vets, General Public
AD Gallanar Elected to STA Leadership Post
Dracula Joins Shakespeare among Ruins
Also in Where's Will @?:
News and announcements from theaters
Links to theaters, festivals, and organizations
The Bard on The Boards: What's Playing Where
The Bard on The Boards: Where's Playing What
Web sites devoted to Shakespeare
More About Shakespeareances.com:
List of Shakespeare Productions
The Shakespeareances.com Top 40
Sponsorship and Advertising opportunities
Sign up for free weekly e-mail updates (safe, secure, spamless, and unshared)
Check out the guy behind this website at www.ericminton.com

Find additional Shakespeareances
on Facebook
Chesapeake Shakespeare Company,
Shakespeare Theatre Association
STA Elects Chesapeake's Gallanar as President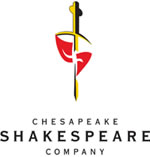 The Shakespeare Theatre Association this month elected Ian Gallanar, founder and artistic director of Chesapeake Shakespeare Company in Baltimore, as president during the association's annual conference, which this year took place in Prague, Czech Republic.
The association's members are the artistic directors, managing directors, and education directors of nearly 150 theaters worldwide dedicated to producing the works of William Shakespeare.
"Live performances of Shakespeare are among our culture's richest experiences," Chesapeake Shakespeare Company press release quoted Gallanar. "It's such a privilege to help share the conversation about great art with the entire world. It is an unbelievable honor for me to help steward this international organization. The Shakespeare Theatre Association is a remarkable peer-to-peer network for the leaders of the world's Shakespeare theaters. I am so honored to be able to serve STA as its president over the next two years."
As a resource for leaders of classical theaters, the association examines the practice, presentation, relevance, interpretation, and application of Shakespeare's plays on public stages, in universities, and in middle and high school classrooms where theater artists support and supplement lessons in literature, language arts, and drama. Though their approaches and languages differ, association members are united in their commitment to explore, question, and challenge the cultural, social, and political content in Shakespeare's plays as they cast and direct them.
The association's annual conference is where the theater directors discuss leadership and management issues, and their nontraditional work in economically disadvantaged populations, in therapeutic programs, in prisons, in programs serving military veterans, in the social justice arena, and beyond. Topics addressed at the 2019 conference included how theaters use classical plays in schools to address issues such as bullying, and reflections on how America's #MeToo movement may affect the public performance of some of Shakespeare's plays.
"I am proud to represent Baltimore and the Chesapeake Shakespeare Company as part of the leadership of such an important group," Gallanar said in the release. His involvement with the association began in 1997 when he worked with Minnesota Shakespeare in the Park. In 2002, he founded Chesapeake Shakespeare Company in Maryland. Today, Chesapeake Shakespeare Company performs year-round in a downtown Baltimore landmark building and each summer outdoors in the Patapsco Female Institute Historic Park in Ellicott City, Maryland. His current projects include directing Henry IV, Parts One and Two, which will open February 15 and run in repertory.
During a conference session on theater leadership at the STA conference, Gallanar and Chesapeake Shakespeare Company's Managing Director Lesley Malin told their peers about their company's growth and success. Chesapeake Shakespeare Company was the conference host in 2017, introducing theater directors from around the world to the thriving arts scene in Baltimore. Attending the conference in Prague with Gallanar and Malin were several trustees of Chesapeake Shakespeare Company, representing the Baltimore business community's support for the arts.
January 21, 2019
If you have Shakespearean news to share, e-mail editorial@shakespeareances.com