"Our steadily increasing attendance is the result of both the strength of our productions and the expanded capacity of our 740-seat Mainstage Theatre tent, which we opened last year."
Link to the Bard on the Beach:
Bard on the Beach in Shakespeare News:
Costume Contest Engages Email Subscribers
After Record-Breaking Anniversary Season,
3 Shakespeares, World Premiere Set for '15
Also in Where's Will @?:
News and announcements from theaters
Links to theaters, festivals, and organizations
The Bard on The Boards: What's Playing Where
The Bard on The Boards: Where's Playing What
Web sites devoted to Shakespeare
More About Shakespeareances.com:
List of Shakespeare Productions
The Shakespeareances.com Top 40
Sponsorship and Advertising opportunities
Sign up for free weekly e-mail updates (safe, secure, spamless, and unshared)
Check out the guy behind this website at www.ericminton.com

Find additional Shakespeareances
on Facebook
Bard on the Beach
2013 Season Tabs Bard's Mid-Career Classics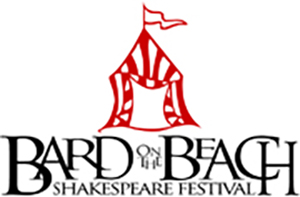 With its annual attendance on the rise, the Bard on the Beach Shakespeare Festival in Vancouver, Canada, has scheduled three plays Shakespeare wrote at the peak of his powers—Twelfth Night, Hamlet, and Measure for Measure—along with the contemporary Canadian play set in Shakespearean England, Elizabeth Rex.
As the 2012 season came to a close last week, Artistic Director Christopher Gaze announced that the Shakespeare Festival's overall attendance has increased for the second year in a row. The total 2012 audience of 86,000 is up by 2,000 from 2011.
"Our steadily increasing attendance is the result of both the strength of our productions and the expanded capacity of our 740-seat Mainstage Theatre tent, which we opened last year," Gaze said in a press release. "The additional seats allow us to welcome patrons who would have been turned away in past seasons. Our large tent, home of the BMO Mainstage, has given us more sophisticated technical facilities and an improved environment for our actors and our audiences. This year, we also expanded and improved our audio system, which has made the listening experience in the larger space even more satisfying."
The Taming of the Shrew, directed by Meg Roe, played in the Mainstage Theatre tent in repertory with Macbeth, directed by Miles Potter. In the Studio Stage tent, Bard set its production of The Merry Wives of Windsor, directed by Johnna Wright,in 1968 Windsor, Ontario; it played alongside a popular staging of the rarely performed King John, directed by Dean Paul Gibson.
Next year, the overall redevelopment of Bard's Vanier Park facilities will continue with further improvements and upgrades to site amenities, landscaping, and the theater tents.
Bard on the Beach's 2013 season will run June 11 to September 14. The opening production on the Festival's BMO Mainstage will be Twelfth Night, staged by Dennis Garnhum (artistic director of Theatre Calgary). Playing in repertory with Twelfth Night will be Hamlet, directed by Kim Collier (cofounder, Electric Company Theatre who directed Titus Andronicus at Bard on the Beach in 2008). On the Douglas Campbell Studio Stage, Bard will present Measure for Measure directed by John Murphy who has been a key player in Bard's acting company in recent years (As You Like It, 2011; The Taming of the Shrew, 2012). Alternating with Measure for Measure is Elizabeth Rex, directed by Rachel Ditor (The Merchant of Venice, 2011; All's Well That Ends Well, 2009).
In the press release, Gaze said that through consultations with the community and a marketing study this past spring, "Vancouver theatre-goers have told us they are very interested in seeing us produce contemporary playwriting that references and illuminates Shakespeare's world and themes, alongside productions of his classic plays."
Bard's programming continues to entertain and educate students and youth, as thousands of elementary and secondary school students and their teachers attended Student Matinee performances in June and September this year. Bard in the Classroom offered in-school workshops in schools throughout British Columbia. The lively, interactive Young Shakespearean Workshops, which bring young people age 8–18 to the Bard site each summer, drew more than 250 participants.
One of the most important ingredients in Bard's continued success is the contribution of its volunteers—a record-setting 230 people this season. They provide a wide range of services, from administrative work to front-of-house duties. In 2012, Bard's volunteers collectively contributed almost 13,000 hours of their time.
September 27, 2012
If you have Shakespearean news to share, e-mail editorial@shakespeareances.com