Participants will come away with new tools and activities for their classroom.
Link to the Actors' Shakespeare Project:
www.actorsshakespeareproject.org
Also in Where's Will @?:
News and announcements from theaters
Links to theaters, festivals, and organizations
The Bard on The Boards: What's Playing Where
The Bard on The Boards: Where's Playing What
Web sites devoted to Shakespeare
More About Shakespeareances.com:
List of Shakespeare Productions
The Shakespeareances.com Top 40
Sponsorship and Advertising opportunities
Sign up for free weekly e-mail updates (safe, secure, spamless, and unshared)
Check out the guy behind this website at www.ericminton.com

Find additional Shakespeareances
on Facebook
Actors' Shakespeare Project
Institute Teaches Teachers
In Staging Shakespeare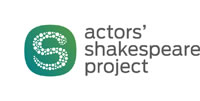 All the school's a stage, and teachers can direct their students to be players through the Actors' Shakespeare Project's Summer Teacher Institute, Aug. 3–7. In this program, run by the Actors' Shakespeare Project (ASP) in Somerville, Massachusetts, teachers learn to bring Shakespeare off the page and into the bodies and souls of their students through an immersive approach to teaching Shakespeare.
This year's featured text is Othello, the first show of ASP's 2015–2016 season. In addition to exploring this play of deeply contrasting characters and tragic descent into jealousy, teachers will experience workshops in movement, voice, acting, directing, text analysis, and other mediums specific to Othello's themes. Participants will come away with new tools and activities for their classroom.
The Summer Teacher Institute faculty includes ASP Founding Company Member Jennie Israel, Curriculum Specialist Lori Shaller, Director of Education Mara Sidmore, and Salem State University Associate Professor of English and Shakespeare Scholar Jeff Theis. Guest artists will also be brought in as teachers.
The institute is designed for teachers of middle and high school grade levels and appropriate for teachers of any level of experience.
Classes take place Monday through Wednesday, 9 a.m. to 5 p.m. at the Charlestown Working Theater (442 Bunker Hill Street, Charlestown MA 02129). Cost is $1,186 for graduate credit and $850 for PDP credit; limited scholarships are available. For more information and a PDF of the application form, go to www.actorsshakespeareproject.org/teacher-institute-2015.
July 2, 2015
If you have Shakespearean news to share, e-mail editorial@shakespeareances.com