The Winter's Tale
Child's Play
Folger Theatre, Washington, D.C.
Wednesday, February 25, 2009
Directed by Blake Robison
Though hewing closely to the script, Folger productions tend to burst through conceptual boxes in staging Shakespeare, and this version of The Winter's Tale was no different.
The entire play was set up as a story being read to a child, with a father and a little boy—book in hand—at times on stage watching the action of the others. The boy (Zophia Pryzby) ended up playing Mamillius, and the man (Lawrence Redmond) became Antigonus. Clumsy at first, the device made for the cutest bear attack we've seen (the boy pretended his teddy bear was attacking his dad) and a great rendition of Time, as the father simply recited Time's speech as a continuation of the story in the book. The device also served the gossip scene well (as Autolycus joined in the storytelling) and created a powerful image at the end, as father and boy closed the book and remained on stage while the reunited families of the play exited. The effect was that of the ghosts of Mamillius and Antigonus being left behind, driving home an oft-overlooked aspect of this play, that en route to reaching the miraculous, happy resolution, two lives were needlessly taken.
Daniel Stewart wasn't convincing as a tyrannical Leontes, though he requited himself as a chagrined Leontes in the last act. Naomi Jacobson as Paulina was an incisive shrew, funny at first but annoying over time. Anthony Cochrane was a fun Autolycus, but by the end his mannerisms seemed little more than a tick-schtick.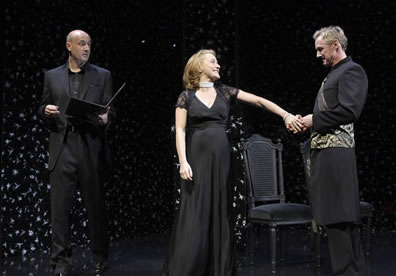 Leontes (Daniel Stewart) suspects his wife Hermione (Connan Morrissey) of infidelity with Polixenes (David Whalen) in
The Winter's Tale
at Folger Theatre. Photo by Carol Pratt, Folger Theatre.
The standout performance—and truly one of the most powerful I've witnessed among Shakespeare's women (Volumnia in Oregon and Judi Dench as Cleopatra are the only compares that come to mind)—was Connan Morrissey as Hermione. She interpreted her initial behavior toward Polixenes (David Whalen) as courteous affection rather than flirtation, she was courageously stoic after her condemnation, and she believably brought her statue to life as if she had been drugged or entranced. The moment, though, was her reunion with Perdita (Laura C. Harris) in which she, and the audience, shed real tears.
Another of this production's highlights was the teddy bear, a polar bear sitting on a little chair when we entered and used in the bear attack. That was one cute critter.
Eric Minton
February 27, 2009
Comment: e-mail editorial@shakespeareances.com
Start a discussion in the Bardroom