The Two Gentlemen of Verona
Proteus's True Love—Himself
Kentucky Shakespeare Festival, C. Douglas Ramey Amphitheatre, Central Park, Louisville, Kentucky
Wednesday, July 13, 2016, third row, center of amphitheater benches
Directed by Matt Wallace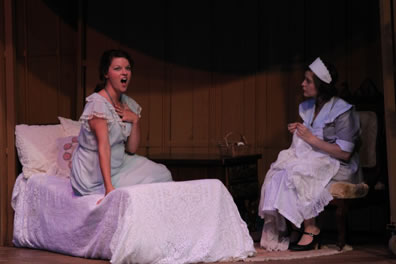 Two ladies of Verona, Julia (Maggie Lou Rader, left) and her maid, Lucetta (Megan Massie), talk of men in the Kentucky Shakespeare Festival's production of William Shakespeare's
The Two Gentlemen of Verona
. Below, Launce (Gregory Maupin) with his dog, Crab (Hope). Photos courtesy of the Kentucky Shakespeare Festival.
The big question in any discussion about a production of William Shakespeare's The Two Gentlemen of Verona is how does it handle the ending? How does it make palatable (or not) the part where Valentine, upon just watching his best friend, Proteus, try to rape his girlfriend, Silvia, not only forgives the repentant Proteus but also offers "all that was mine in Silvia I give thee." Oh, and Silvia says nothing, not a peep for the remaining 85 lines of the play.
I wish I could tell you how the Kentucky Shakespeare Festival production handled that ending, but I can't. A thunderstorm's fast approach to the outdoor amphitheater during intermission forced the cancellation of the rest of the play on this our last night in Louisville (note to self: henceforth always plan a rain date for outdoor productions far from home). Nevertheless, I've decided it's worth telling you about the first half of the play and how that might have informed the ending in Director Matt Wallace's staging. Besides, this will be as much a review of the Kentucky Shakespeare Festival, the longest running free Shakespeare festival in the United States, which deserves words of appreciation for its work and organization.
Wallace sets this Two Gents in 1919 England, opening with a homecoming celebration in what looks to be (according to Donna Lawrence-Downs' costumes) an English country manor, a la Downton Abbey. Valentine (Zachary Burrell) and Proteus (Jon Patrick O'Brien) are British soldiers who enter and embrace. All the while the ensemble is singing the old turn-of-the-century standard "The Girl I Left Behind."
In his program notes, Wallace quotes religious scholars Philip and Carol Zaleski's observation of post-war England when so many young males didn't return from battle: "In a society known for its masculine 'clubbability,' yet haunted by the memory of so many friendships severed, so many men cut down in their prime, it scarcely surprises that the surviving remnant would seek out every opportunity for male companionship." Asks Wallace: "What happens when we take those strong male bonds, loyalty, and friendship and put them to the test?" That's the thematic foundation of his direction of The Two Gentlemen of Verona.
It's a noble quest for such a simple and unevenly crafted play, one of Shakepseare's earliest and lesser efforts. The greater impact of the setting is Wallace's inclusion of song and dance numbers from the era. Scenes end with the actors shifting into early jazz and music hall tunes with soft-shoe accompaniment (choreography by Barbara Cullen). These musical digressions don't contribute much thematically to the proceedings, but they do wrap the overall production in lighthearted fun.
Even without the musical interludes, the play comes off better than expected in this staging. Through verse-speaking skills and fully realized character portrayals, this cast presents a most likeable piece of work, generating laughs on par with any of Shakespeare's other romantic comedies. Despite having seen a string of three keenly staged and enjoyable productions of The Two Gentlemen of Verona the past two years, I arrived at Louisville holding on to my previous prejudice that it is an inferior product for any playwright. Now, as the play's winning streak reaches four, I should start regarding Two Gents as a piece of Shakespearean genius that happens to have some unfortunate logical lapses and narrative missteps.
Jon Patrick O'Brien reveals Proteus to be a man with a self-centered infatuation for romance. He doesn't just revel in the notions of love; he makes his capacity for love the center of all the universe—a universe comprising himself and everybody orbiting his person. Notice in his love letter to Julia (Maggie Lou Rader), which she has torn up before reading it, only two instances of "Julia" are writ there: however, in addition to "love-wounded Proteus," "poor forlorn Proteus," and "passionate Proteus," Julia reads another instance where "twice or thrice was Proteus written down." In this presentation all those mentions are on one shred of paper, so multiply the potential mentions of Proteus by eight, and you get the dimensions of his ego.
That ego crawls through his moral compass in his second soliloquy after arriving in Milan. In his first soliloquy he professes how he has suddenly become smitten with Silvia (Arielle Leverett), Valentine's new love. In his second soliloquy two scenes later, he determines to betray his friend by getting him exiled from Milan and winning over Silvia, thereby betraying Julia, too. As he reasons it out, Proteus reveals how much his notions of romantic love are centered on himself. "Julia I lose, and Valentine I lose: if I keep them, I needs must lose myself," he says. "If I lose them, thus find I by their loss: for Valentine, myself, for Julia, Silvia. I to myself am dearer than a friend, for love is still most precious in itself." As O'Brien speaks these lines, he doesn't seem in any way devious or cruel; it's pure logic.
By contrast, Burrell's Valentine catches romantic love like a disease, as described by his witty servant, Speed (Abigail Bailey Maupin resembling a New York goodfella). Valentine's focus is entirely on Silvia, praising her to the point of bragging—or, perhaps, the bragging comes from the fact that he has placed her on the highest pedestal he could erect and now marvels at how she deigns to even notice him, let alone love him in return. His is unconditional love.
Julia, meanwhile, is as self-centered as Proteus. It comes out in a brief but wonderful moment after she proposes to disguise herself as a boy in order to follow Proteus to Milan. "Why then, your ladyship must cut your hair," her maid, Lucetta (Megan Massie), tells her. "No, girl," Rader's Julia responds with a horror-stricken expression. Then she smirks in self-satisfaction with her obviously good idea to "knit it up in silken strings with 20 odd-conceited true-love knots. To be fantastic may become a youth of greater time than I shall show to be." Maintaining her good looks trumps effectiveness of disguise for this Julia.
Rader's Julia also likes reading her name in the letter, even though those few times she sees it she says she wants to tear out and crumple all references. Rader gets in another delicious moment when she folds the paper so that her name and Proteus's will be "one upon another. Now, kiss," she orders the two scribbled names, and she mimes a kiss; "embrace," and she wiggles; "contend," and she mimes an even more passionate kiss; "do what you will," and she licks her lips and is about to send herself into self-induced ecstasy when Lucetta interrupts to tell her dinner is ready.
Lucetta is one of the most difficult characters to grasp in the Shakespeare canon, beyond her sometimes obtusely archaic jokes. She's Julia's servant, and Julia can be most abusive toward her, but they also behave as closest of friends. Is the abuse all in jest? And how old is Lucetta? In this production, the 1919 setting aids Massie (who is young enough to play Juliet in Romeo and Juliet) in a believable presentation of a droll Lucetta showing a hint of cynicism that the self-centered Julia doesn't grasp. Lucetta knows her employer wants the close friend and confidante that only she can provide; but she also knows her place in the social caste system and as Julia's employee. This Lucetta walks a fine line in her relationship with Julia, and the result is one of the most satisfying and funniest presentations of this pair that I've ever seen.
Would that I had seen the paths of these personalities collide in the ending—Proteus, Valentine, and Julia, plus Silvia, who doesn't fully evolve as a character until the second half of the play, after the intermission on this night. Darn rain.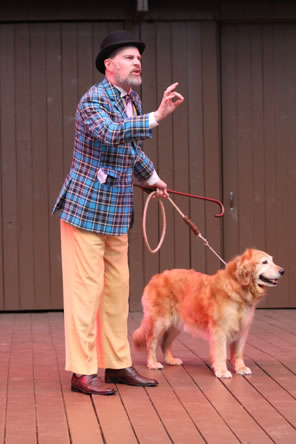 Oh, as for the other great question concerning staging The Two Gentlemen of Verona—real dog or not?—Crab is played by Hope, a 6-year-old golden retriever who works as a certified therapy/comfort dog with Heavensent Half-Pints Inc. when she's not moonlighting as an actor. She should keep her day job: in her portrayal of Crab, Hope is too proud and sedate and doesn't really seem in the moment. With Gregory Maupin portraying Launce with comic fastidiousness, he deserves a more involved sidekick. Of course, there's lots of squirrels about Central Park, so that could explain some of her lack of focus on the script.
That a dog turned in the only disappointing performance of our two-production experience with Kentucky Shakespeare Festival speaks to the quality of this company's on-stage product. The Festival's Central Park home is in Old Louisville, a turn-of-the-20th-century neighborhood with various styles of large Victorian houses on the surrounding streets (a perfect backdrop for the setting of this Two Gents). The stage is a wood platform with two turret-like towers, each with sliding doors for inner scenes, on eitehr side of a two-story backdrop. An amphitheater of benches can seat more than 1,000, plus picnic areas on the side and back (the Saturday night Romeo and Juliet we attended drew 950 people, Wallace said). The actors are miked, but Sound Designer Laura Ellis does a great job of mixing to create a natural quality. Kentucky Shakespeare Festival has partnered with the Louisville Food Truck Association to provide a variety of dining options from show to show. Over the two nights we attended, the trucks parked behind the amphitheater served barbecue, Turkish cuisine, lobster rolls with chowder, and ice cream treats.
The bottom line, of course, is the quality of the productions and performances. The two plays we saw, both directed by Wallace, the festival's producing artistic director, maintained fealty to the First Folio's text while exploring socially pertinent themes through costuming, setting, and textual emphasis (this summer's repertoire also includes The Winter's Tale helmed by Amy Attaway, which we couldn't fit into our schedule). Meanwhile, from O'Brien's explosive entrance as Escalus speaking the Chorus in Romeo and Juliet through to Rader's Julia taking leave of Massie's Lucetta for her trip to Milan just before intermission in The Two Gentlemen of Verona, we saw a high standard of Shakespeare.
We'll be back. And we'll be sure to schedule rain dates next time.
Eric Minton
July 17, 2016
Comment: e-mail editorial@shakespeareances.com.
Start a discussion in the Bardroom