The Taming of the Shrew
An Old-Fashioned Lesson
in Respecting Your Spouse
American Shakespeare Center, Blackfriars Playhouse, Staunton, Va.,
Saturday, October 9, 2010 (Seats C–4&5, middle stalls)
Directed by Jim Warren
First, I don't buy into any post-feminist interpretation of this play. It is an Elizabethan romp played before the drunken tinker, Sly. This being Shakespeare, I believe even in this early play he tweaks the social conventions of his time, for this play is less about subjugating women than it is about engendering trust within a marriage.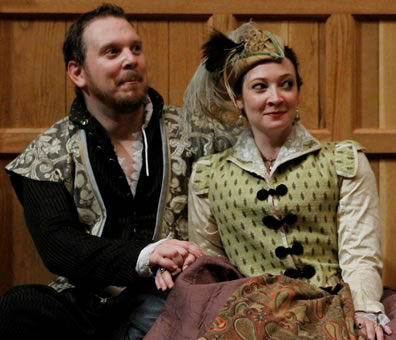 Benjamin Curns as Petruchio and Sarah Fallon as Kate in
Taming of the Shrew
at the Blackfriars Playhouse. Photo by Tommy Thompson, American Shakespeare Center.
I have long felt that Katherine—intelligent, confident, and the victim of a father's over-doting on her little sister—genuinely falls in love with Petruchio (and vice versa, even though his primary motivation is to wive wealthily). Petruchio is a madcap, absolutely; and he is a bit of a chauvinist, yes. But his primary purpose in "taming" Kate is to get her to understand the merits of appreciating and trusting others—especially trusting others. What seems at first a cruel game—i.e., "say what I say even when I say the sun is the moon"—becomes a valuable lesson in trust when, after Petruchio gets Kate to address old Vincentio as a young budding mistress, that old man ends up calling Kate "my merry mistress." This is the first time anybody in the play, other than Petruchio, has described Kate as something other than a curst shrew. I believe another modernist misunderstanding comes with Petruchio listing Kate among his properties after the wedding; rather, he rates Kate as his most important asset and is, in fact, the sum of all he owns, "my any thing."
Even in the last scene, if we put ourselves in Kate's presence off-stage, we will see that she realizes "some goodly jest is in hand" and will figure that Petruchio is up to something. She's learned by then the benefits of playing along, and by playing along she gets an immediate reward that is particularly special to her: Petruchio gives her license to "swinge soundly" the sister who has been a lifelong thorn in her side and the widow who just publicly insulted her. Then, when Petruchio next shows off her obedience, it is not some degrading act but merely throwing her cap under foot (come on, he could have demanded much worse). Perhaps, even, it's the "mean" cap Petruchio forcedher to wear when he denied her the one the tailor brought, so the two share an inside joke of which the protesting widow is not aware. Finally, Petruchio has her preach about wifely obedience specifically to the other two women, her nemeses. Petruchio is not merely showing off her obedience but showing off her superiority to the others, a status she has never hitherto been allowed.
As to this production, ASC typically gave a true-to-the-text reading, playing up the romp, starting with the Induction. Daniel Kennedy as Sly first appeared during the pre-performance instructions and then seamlessly moved into Shakespeare's lines. The Induction was in modern dress, including the troupe of players; but the play they performed, Taming of the Shrew, was in full-on, absolutely gorgeous Elizabethan costume. Though Elizabethan in look, and Shakespearean in speech, the action was modern in manner from Lucentio's poses to Tranio-as-Lucentio's walk, from Bianca's petulant manners to the fist-bump interactions between Petruchio and Grumio. Sarah Fallon's Kate did fall in love with Benjamin Curns' Petruchio, and she came to fully appreciate his zany character when he greeted Vincentio as the young maid. In the last scene when she heeded Petruchio's summons, she glanced down at the wagered money on the floor, and it was she who picked up all the money before she and Petruchio departed (for the record, the cap she threw underfoot was the same as the tailor had brought).
One thing this production played up was the evolution in behavior whenever Petruchio said, "Kiss me, Kate." The first time after the wooing scene, she stormed out; the second time, in the alley, she argued that kissing was improper in public but then gently acquiesced; the third time, after her speech to the women, she jumped into one of the most passionate suck-face moments we've ever seen (and we've seen Fallon act out many, many passionate moments at Blackfriars).
No need to list any particular performance, as the whole troupe was in top form and every character a singular experience, all putting to the lie any scholarly notion that this is one of Shakespeare's weakest plays: when done with caricatured energy and a hipster edge, even when sticking strictly to the verse and plot, this play is a hoot.
Besides, the true star of this particular production was the audience. The sold-out house included many teen-age kids who apparently didn't know the play but laughed and squealed in delight. Most notable were the girls occupying the stools on stage. Three were coached, via a miming Glenzer as Tranio in the guise of Lucentio, to scream when someone mentioned "Mantua" (they bragged to their friends afterward about how well they did in their theater debuts). On the opposite side of the stage, two other girls were displaced by Sly and the page (René Thornton Jr. dressed as Sly's wife, first during the Induction to watch the play and again for the Induction's continuation between the first and second scene of Shrew. Then when Kennedy returned as Hortensio in the second scene, one girl leaped off her stool and stepped aside, conditioned into believing Kennedy needed the seat. At an appropriate time in the action, Hortensio meandered over to the girl, took her hand and gently led her back to her stool. It was yet another of those wonderful only-at-Blackfriars moments.
Eric Minton
October 11, 2010
Comment: e-mail editorial@shakespeareances.com
Start a discussion in the Bardroom